"Children, obey your parents in the Lord, for this is right" (Ephesians 6:1). Some parents take this as the first commandment and the second for their children. A few even take it so far as to mandate that their children obey every adult.
While it's true that scripture tells children to honor and obey their parents (also in Colossians 3:20), that doesn't mean that children should obey everyone. Are you a kid looking for how to obey better? Are you a mom looking to get more obedience from your kids? Read on, I have help for you both.

And before we go any further, I want to acknowledging that the word obey might be a distasteful word for some. So honoring the word in these verses in the original Greek, hypakoúō, here are some other words to describe it. It also means "to act under the authority of" or "to listen attentively to."
How To Obey Your Parents In The Lord
This post may contain affiliate links which means we receive a small commission to support this page at no extra cost to you when you shop through our links. You can read my full affiliate disclosure here.
Most of the time obedience is the right choice, so how do you follow through? Unfortunately, there's this backwards notion that obeying your parents is somehow your ticket to heaven. I don't know how Jesus got left out of the salvation story, but it's been said more than once, "If your kids don't learn to obey you, they'll never obey God."

Obeying your parents in all things will never make you right with God.

"The mind of the flesh is hostile toward God; for it is not subject to God's law, neither indeed can it be. Those who are in the flesh can't please God" (Romans 8:7-8).

Only after you have given up on your own attempts at righteousness and surrendered to the righteousness that comes from salvation in Christ, do you even have the ability to obey.

Obedience is the result of righteousness, not the means.
As Timothy Keller put it, "Religion says, 'I obey; therefore I am accepted.' Christianity says, 'I'm accepted, therefore I obey.'"
Obedience that pleases God means choosing to do what someone God has put in authority tells you to do because you trust and love God (Philippians 2:8, John 14:15, Romans 6:17).

Only after you have clothed yourself in Christ, can you overcome sin and temptation and make the right choices. And these choices are not powered by fear, but by love.

Jesus says in John 14:15, "If you love me, you will obey my commands."

So if you find motivation lacking, remember how much God loves you, and how much Jesus sacrificed to show that love. And this Jesus is telling you to obey your parents. When you struggle, focus on the love.
How To Get Your Children To Obey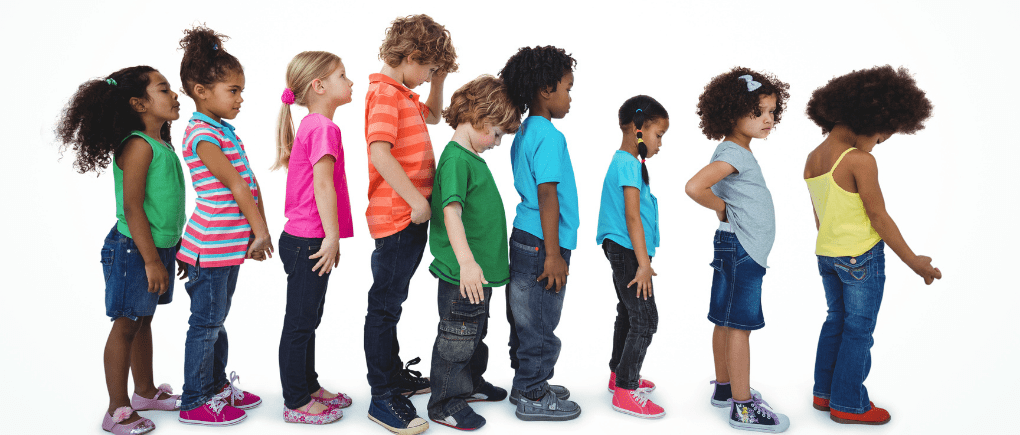 Chances are, more parents than kids are going to read this. This blog is called Gentle Christian Parenting, after all. And if you are a parent, maybe what you're looking for is that motivation to get your kids to start behaving, obeying, and honoring you.
Getting your children to listen to you well can be tricky. Demanding obedience often backfires. Obedience done under compulsion binds the one who serves, making it impossible to freely respond in love and with joy.

Consider what you really want. Children who are happy to obey or children who put on a good show so they don't get caught?

It's important to consider the additionally challenges of a being a kid. Your kids have different goals and abilities than you do as an adult. Developmentally, they don't have the same aptitude for self-control. And if you're honest, are you perfect at self control? Do you perfectly obey God?

So then how do you get your kids to obey?
7 Steps To Get Your Kids To Obey
Obviously having your children obey is beneficial for you and for them. You need them to listen to you so you can protect and teach them. So here are 7 steps to get your kids to obey. This isn't a promise or a formula. This is what I see in scripture as to what leads us all to obey.
Step 1. Get Your Priorities Right
First, remember your most important mission is not to bring your kids to obedience, but to bring them to Jesus. Without Jesus your kids will never obey well, they can't.
"For God has imprisoned all in disobedience, so that He may have mercy on all" (Romans 11:32, HCSB).
God has imprisoned all to disobedience, so he can punish them until they ..oh wait, that's not what it says. It says, "so that He may have mercy" on them.
Step 2. Show Mercy
This probably sounds counter-intuitive. It's definitely counter-cultural and not the way the world works. But God's kingdom is not of this world. You must first demonstrate your obedience to God and show mercy.

"Therefore be merciful, even as your Father is also merciful" (Luke 6:36).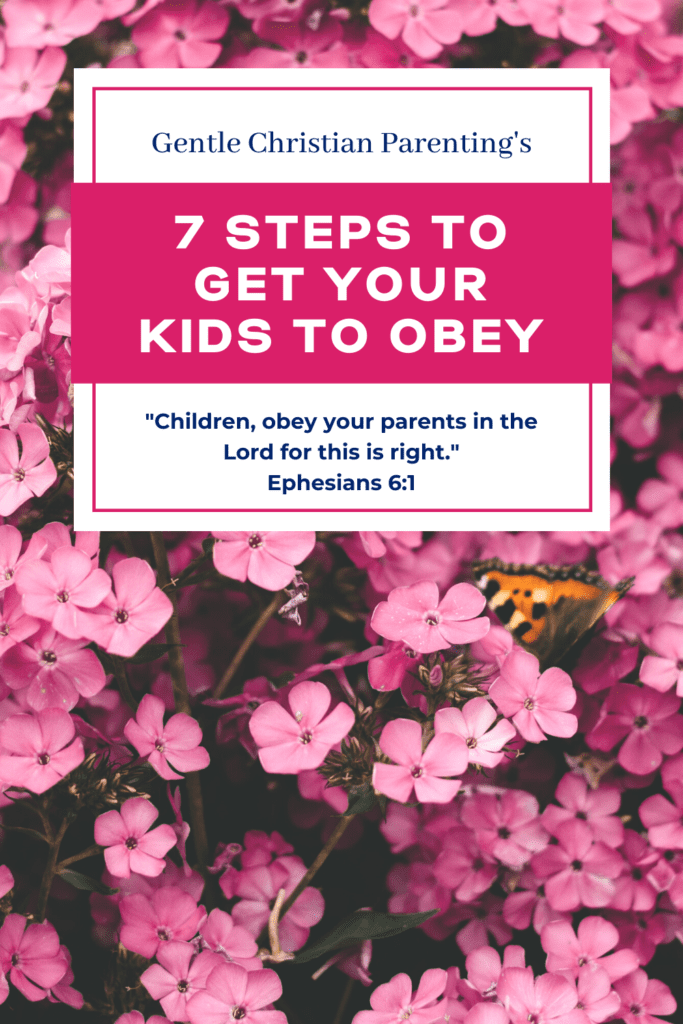 Step 3. Be Patient
"Now we who are strong ought to bear the weaknesses of the weak, and not to please ourselves" (Romans 15:1). Yes disobedience is a big inconvenience, but until they are spiritually and developmentally ready – they can't. Remember their weakness and be gentle.
Step 4. Lead By Example
Teach them to obey as Jesus taught us to obey. He encouraged us with words, scripture, and by example. Let them see you do messy, unfun things for Jesus, like washing feet.

"If I then, the Lord and the Teacher, have washed your feet, you also ought to wash one another's feet" (John 13:14).
Step 5. Build Them Up In Love
If your goal is to teach them to obey like they would obey God, then they should obey out of love and trust. Build them up in love. Doing humble work (like washing feet) is an act of love.

Showing them mercy and forgiveness is also a great way to build them up in love. Jesus points this out when the woman of low regard washed and anointed his feet at a dinner party. "I tell you, her many sins have been forgiven; that's why she loved much. But the one who is forgiven little, loves little" (Luke 7:47).
Step 6. Prove You Are Trustworthy
Forgiveness is free, but trust is earned. Your children start out in the first two years trusting you wholly. They have to in order to survive. But as they grow more independent, they start to question, and disobedience happens.

With their newfound ability to choose what they want to do, they need reasons to trust you. They need to know that your voice is the right one to listen to. As Jesus said, "My sheep listen to my voice. I know them, and they follow me" John 10:27.

Let them experience the natural consequences (when it's safe to do so), so they learn what happens when they don't listen to your voice.

Why do you trust and obey God? It's probably partly because He has shown you that He is faithful and trustworthy. He is always there for you, always dependable, always good. And you know if He is telling you to do something, you can trust that it serves a good purpose.

As James 1:7 says, "Every good gift and every perfect gift is from above, coming down from the Father of lights, with whom can be no variation, nor turning shadow."
Step 7. Teach Them To Do The Right Thing
Sometimes we get so focused on what we don't want our kids to do, that we forget to tell them what to do instead. Generally speaking, instructive correction is more effective. So instead of "Don't stand on the chair" and expecting your little one to figure out what to do, you'd say "Chairs are for sitting, please sit on the chair."

Proper teaching also means teaching scripture. Scripture will lead them to God and to know what it is God wants. And God wants children to "Obey your parents." And isn't that the very best reason for your children to obey you?

How beautiful when children obey not because they have been coerced with fear and shame – but because they love God and want to obey and honor his word.
Why You Should Obey Your Parents And Elders
Parents and elders have more life experience, more knowledge, and more wisdom than kids. The vast majority of the time, parents and elders will have the best guidance. Listening to them will benefit a child.

As we are told in Hebrews, "Obey your leaders and submit to them, for they watch on behalf of your souls, as those who will give account, that they may do this with joy, and not with groaning, for that would be unprofitable for you" (Hebrews 13:17).
Download this Hebrews Bible Verse Phone Wallpaper Free

But, there's no biblical basis for unquestioning obedience of earthly authorities. If recent history has taught us anything, children shouldn't always obey elders. People in positions of power are prone to abuse it. Elders and parents sometimes abuse children.

Beware. Sometimes leadership goes against God and disobedience to an earthly authority is the right choice. As Peter and the other apostles said, "We must obey God rather than men" (Acts 5:29).

Keep in mind, deciding to disobey authority to honor God should be done with extreme care. It is more often the situation that obedience is the right choice. Chances are your disobedience will mean unpleasant consequences, even when it is the right thing to do.
Does Honoring Your Parents Mean Obeying Them?
Sometimes, but not always. To be disciples of Christ, you must reject every other authority and submit first and foremost under the authority of Christ. As Jesus says in Luke 14:26, "If anyone comes to me, and doesn't disregard his own father, mother, wife, children, brothers, and sisters, yes, and his own life also, he can't be my disciple." In most translations the word "disregard" is translated as "hate."

To disregard or hate essentially is saying you must "love less" than Jesus or put them aside for Jesus. You certainly don't obey them over Jesus.
God is the greatest authority and no single command on earth overrides a child's call to obey Him.
In fact, God has called children to disobey their parents in scripture. "I said to their children in the wilderness, 'Don't walk in the statutes of your fathers, neither observe their ordinances, nor defile yourselves with their idols. I am Yahweh your God: walk in my statutes, and keep my ordinances, and do them'" (Ezekiel 20:18-19).
How To Honor Your Parents When You Disobey
If there's a situation where you feel certain, backed by scripture and prayer, that God is telling you to disobey your parents, then do so, but with great care. Let's say, using the example above, that your parents are telling you to worship idols. Here, disobedience is the right choice.

This doesn't mean acting in a disrespectful or dishonoring way. As Paul commends us in Romans 12:18 "If it is possible, as much as it is up to you, be at peace with all men."
So how do you honor your parents when choosing to disobey them for the sake of Christ?
You honor them by seeing them through God's eyes. Respect their intelligence and make your case for not going along with their plans. Share who Jesus is and why you must obey him. Do it with love, gentleness, and honoring them as precious children of God. Be respectful as you share.
Final Thoughts On Obedience
I'm guessing this way of thinking about obedience might take some time to digest. Pray on it, search scripture more, see what God says.

And you may want to consider teaching your kids how to disobey. Teach them discernment and safe boundaries. Teach them about Daniel and all the other biblical characters who stood up to authority when it was right.

Drill into them that you love them, even when they disobey. And ironically, you will probably find that it that will lead them to want to obey you more.
So how about you…have you ever disobeyed an authority because you knew it was right? What happened?

Find this helpful? You may also enjoy
7 Godly Parenting Principles

How To Bring More Peace Into Your Home
Biblical Parenting
Godly Parenting
Understanding Scripture