Being a Christian is challenging these days. If you want to be a part of raising a godly generation, it can feel like an uphill battle. To help you, here are 7 principles to incorporate as a godly parent so you can raise your children in a God-honoring home.
Raising godly kids requires learning what the Bible says about parenting. The following biblical parenting principles are firmly grounded in scripture and centered around the gospel.
What Makes A Godly Parent?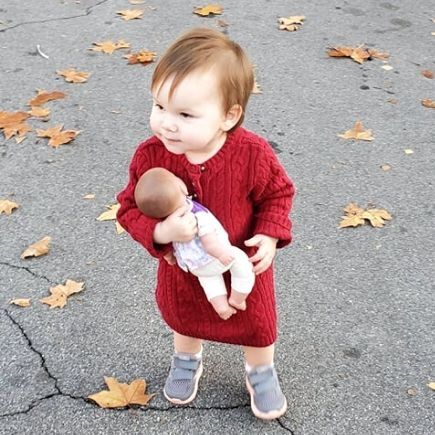 As you pursue godliness and raising godly children it helps to have a firm grasp of what it means to be godly. Here's how scripture defines godliness.
In 1 Timothy 3:16 (WEB), Paul says,
"Without controversy, the mystery of godliness is great:
God was revealed in the flesh,
justified in the spirit,
seen by angels,
preached among the nations,
believed on in the world,
and received up in glory."
This contains affiliate links. I may earn commissions at no extra cost to you if you shop through the links on this page. Read my full affiliate disclosure.
Godliness is being Christ-like. Jesus showed us how to be pleasing to the Father, conformed to His will, and molded to His character. If you want to raise a godly child, you must model godliness in your life and in your parenting.
Godly parenting means engaging your kids in a way that most accurately reflects the life and words of Jesus. To parent in a way that pleases God, you must seek, depend on, and live through Christ.

It is this pattern of Christ that informs the 7 godly parenting principles that follow.
1. Love And Honor God Above All Others
The first principle of godly or Christ-like parenting is inspired by one of the 10 commandments. The most important commandment according to Jesus is, "Love the Lord your God with all your heart, with all your soul, and with all your mind" (Matthew 22:37, HCSB). Or as God said it in Exodus 20:2-3, "I am the Lord your God, who brought you out of the land of Egypt, out of the place of slavery. Do not have other gods besides Me."
As narcissism has crept its way into the church, so has narcissistic parenting advice. The doctrine that parents are like God or that parents are God on earth is dangerous. It is the original appeal of Satan, "you will be like God" (Genesis 3:5).

Rather, you are to have the mind of Christ, "who did not consider equality with God as something to be used for his own advantage" (Philippians 2:6, HCSB).

God is God, no need for you to step in His place. The biblical role of a parent is to be a steward of His children. Only God knows what each child was created to be and do.
Enjoying this post? Pin it!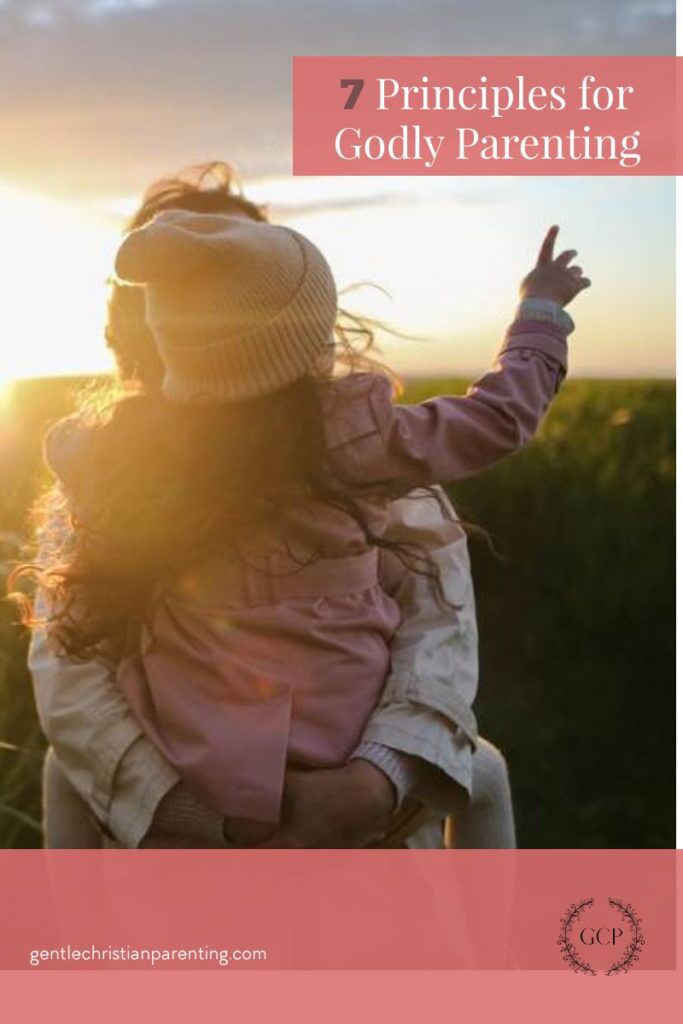 2. Love Your Children As Jesus Loves You
In John 13:34 Jesus called his followers to a very high standard "I give you a new command: Love one another. Just as I have loved you, you must also love one another." We are called to love all others, our children included, in the way Jesus showed us to love.
The command to love presupposes there is a choice, an action that you can take. How did Jesus love? Jesus gave us the example of how to love well. You can love your children like Jesus by choosing to treat them like Jesus treated the disciples.
3. Be a Faithful Steward
Do you own your child? Depending on where you live, your government or culture may say yes. In contrast, we who are loyal to the kingdom of God believe "The earth and everything in it, the world and its inhabitants, belong to the LORD;" (Psalm 24:1).
"Who then is the faithful and wise manager, whom the master puts in charge of his servants to give them their food allowance at the proper time? It will be good for that servant whom the master finds doing so when he returns" (Luke 12:42-43, NIV).
Just as a manager or steward doesn't own what they are put in charge of, we don't own our children. Our children belong to God and we are entrusted with their care for a period of time. And we will be held accountable for the care we give them.
Read more about being a biblical steward.
4. Do Not Provoke Your Children
One of the few verses to directly address parents is Ephesians 6:4. In the HCSB version it begins, "Don't stir up anger in your children." The phrase "stir up anger" is sometimes translated as "provoke to wrath." We are given similar instructions in Colossians. "Don't provoke your children, so they won't be discouraged" (Col 3:20).
This doesn't mean you have to avoid making our kids mad at all costs. Kids get angry. What makes your child angry at the moment might be what's best for him. For example, today my baby became very upset when I took away some AA batteries she found. She got over it. I think what these Bible verses are telling us is not to provoke our children in a way that results in angry, discouraged, or solemn people.
5. Teach God's Word
Let's look at the rest of Ephesians 6:4, as we explore biblical teaching on parenting. Paul instructs parents, "but bring them up in the training and instruction of the Lord" or other translations say "nourish them in the instruction and admonition of the Lord." Any way you look at it, we are to teach them God's instructions! This means teaching the Bible to your child in age-appropriate ways.
As well, you can connect your children with different ministries to help them grow in knowledge about God's word. Awana is a great ministry that helps children memorize scripture. Additionally, bringing your kids to church and Sunday school as well as other Jesus-loving ministries can help nourish them in the instruction of the Lord.
I've created a devotional just for kids going over the parables and how they apply to living a Christian life. It's called Growing In Christ. Parents have reported back seeing character transformation in their kids. They have also used it as a family devotional. It has a parent version as well, Parenting in Christ: Lessons from the Parables to encourage you as you model and teach your kids these lessons.
Listen to Parenting in Christ on Audiobook!
6. Train Your Children To Follow Jesus
The other part of the instructions in Ephesians 6:4 is to raise kids in the "discipline" of the Lord. The word for discipline (paideia) indicates a training of the whole person – molding them into the likeness and holiness of Christ. In other words, we are to raise children in a way that helps them take their head knowledge and bring it into their lives.
Proverbs 22:6 says "Train up a child in the way he should go." What is the way? Jesus answers in John 14:6 "I am the way, the truth, and the life. No one comes to the Father, except through me."
Parenting God's way means parenting with Jesus. He is literally called the way in scripture. There is no other way that pleases God.
7. Be Humble
In all that we do, we honor Christ if we do it "with all lowliness and humility, with patience, bearing with one another in love; being eager to keep the unity of the Spirit in the bond of peace" (Ephesians 4:2-3). Jesus our model for living and leading was the most humble person to have ever lived.
He, being the perfectly holy God, humbled himself and took on human form, while retaining his Godly nature. And through all this he did not lord his position over us, he didn't "let us know who's boss." He washed feet, went without a home, and submitted to a humiliating death. There is no walking in the way of Christ, without walking in humility.
Get a free Bible verse coloring page for humility! No sign up necessary. Just download and enjoy!
Some Final Thoughts on Being a Godly Parent
These godly parenting principles are not intended to be a formula. They can apply across more than one parenting style. In fact, I'd recommend testing any "biblical parenting styles" against these principles. Do they reflect Jesus life – what he said, did, and how he did it?
One of the benefits of raising a godly family is that making Christ the model takes the pressure off of you to be a perfect parent. Instead, you can show them that you too need to rely on his perfection rather than your own.
My parenting Bible studies are modeled after the life of Christ. Again there, it's not about formulas, but about following in the patterns of Jesus.
I am not the way. Honestly, I don't always know exactly what's right for each of my children, but Jesus does. And he knows what we parents need, too.
"He will tend his flock like a shepherd;
he will gather the lambs in his arms;
he will carry them in his bosom,
and gently lead those that are with young."
– Isaiah 40:11
Thank you Jesus for caring for the caregivers!
Download this beautiful coloring page with these 7 principles & bible verse references!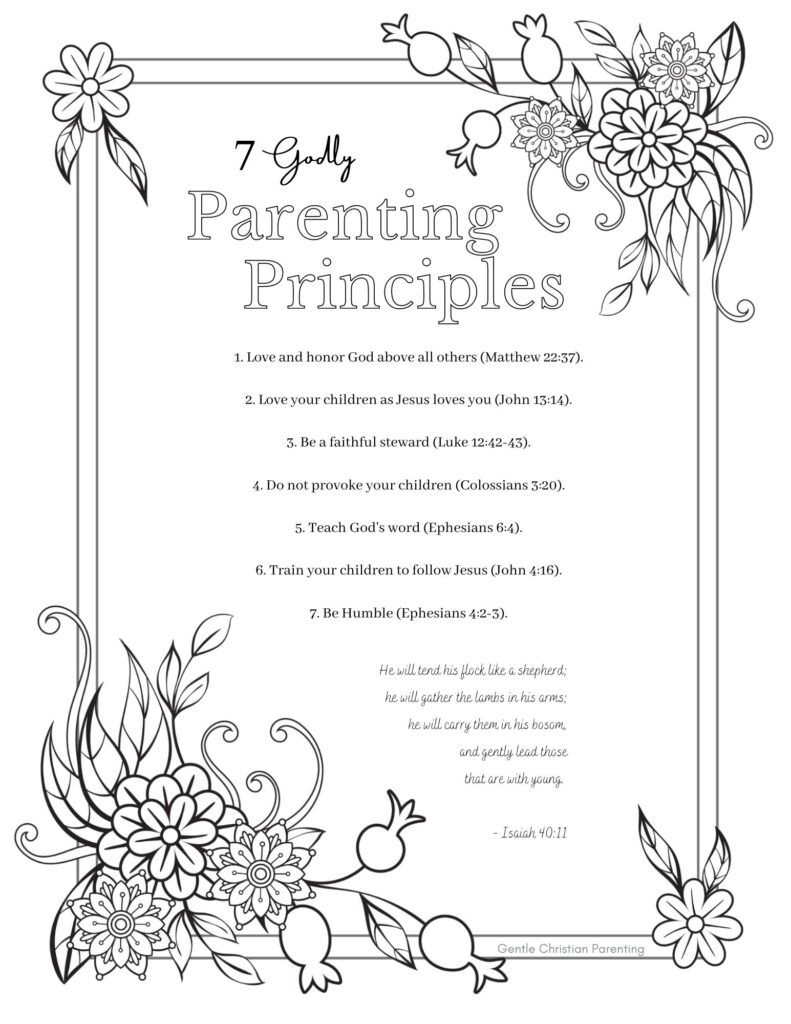 Biblical Parenting
Humility