Your home may have once been a sanctuary, but when you have kids, you introduce noise and chaos into your home. The more kids, the more noise, battles, and tension can build. It takes work and intention to increase the peace. So here's a few tips on how to make your home a sanctuary again.

First, let's get a clear definition of what we are aiming for. A sanctuary is somewhere you can escape to for safety. It comes for the Latin word sanctus, meaning holy or set apart. Making your home a sanctuary means making your house a place of peace and safety – a sacred escape from the rest of the world.
How to Make Your House A Sanctuary
Everyone has their own ideas about what constitutes a peaceful space. For me, I like a more minimalist clean white look with open windows. Some prefer dark colors and closed blinds. Whatever it is that brings you peace, start working towards creating that look and space in your home, starting with your entrance.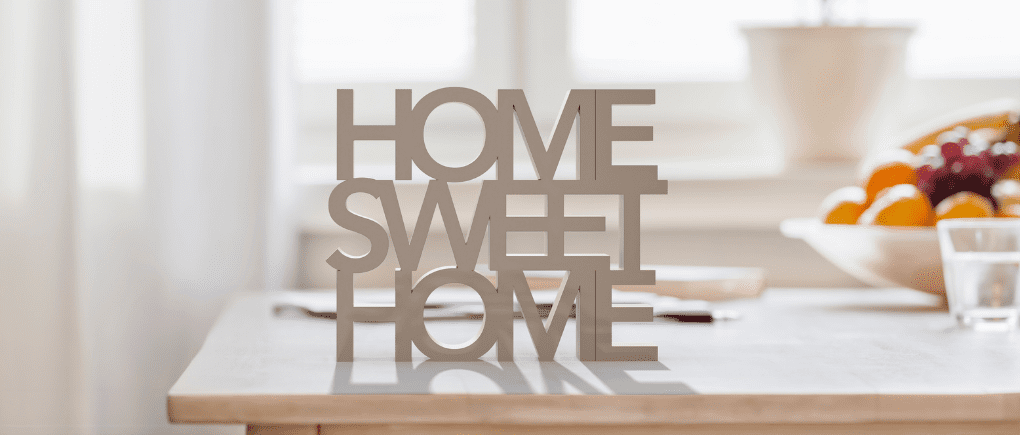 This post may contain affiliate links. When you purchase through links here I earn a commission at no extra cost to you. You can read my full affiliate disclosure here.
It's not just looks that create a feeling of peace in the home. Consider how to add (or remove) smells, sounds, and even the temperature. I like to have open windows and breezes flowing through as much as possible. I hate most fragrances, but do like essential oils diffusing from time to time. And lately, I've been telling my Alexa to play classical music in the mornings to set a peaceful mood. And of course, in making a "holy" place, we must consider the spiritual.
Blessed Are the Peacemakers
Creating a peaceful home is a spiritual act. As Jesus said in the Sermon on the Mount, "Blessed are the peacemakers, for they shall be called children of God" (Matthew 5:9).

As a follower of Christ, I am called to pursue peace with everyone. "If it is possible, as much as it is up to you, be at peace with all men" (Romans 12:18).
How to Create Peace In Your Home
Being a peacemaker, especially when we are working with little people who haven't developed reasoning and good decision-making skills yet, requires us to lean on God's wisdom and not our own understanding (Proverbs 3:6).

My toddler is a huge screamer. I'm guessing it's a youngest kid thing… she will not be missed, left out, or unheard! It takes a premeditated patience for me to not start yelling over her, not join in her chaos. Below are some more specific ideas for how to bring peace into your home, spiritually.
Let the Peace of Christ Rule
Colossians 3:15 says, "And let the peace of Christ rule in your hearts, to which indeed you were called in one body. And be thankful." So what does this mean when the kids are fighting and the baby is screaming?

To let the peace of Christ rule means to draw your focus in on Christ, who is stable, solid, full of peace and love. So that in the chaos all around you, don't react. Instead, you let that firmly rooted peace of Christ guide your actions and words.
Finding this helpful? Pin it!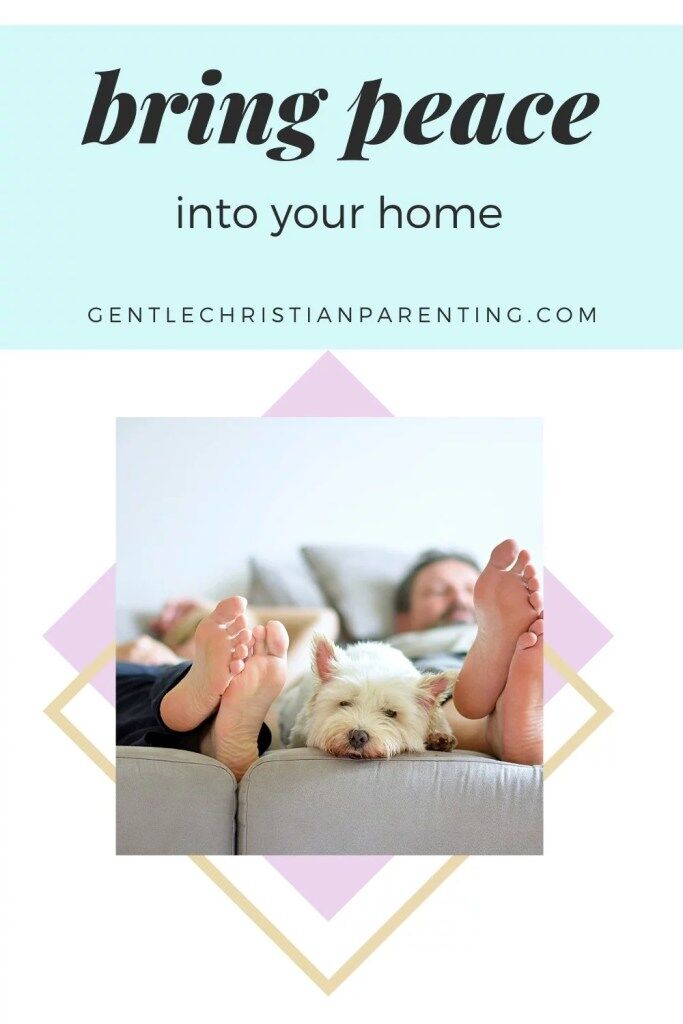 How to Keep the Peace at Home
If there's noise and fighting, don't be discouraged. We are given directives to work for peace because it is not something that comes naturally to any of us. We all need instructions and reminders to work towards peace.

Sin is the great divider – putting us at odds with God and each other. Fights, dissensions, and divisions result from those who are living to serve the desires of the flesh (I Corinthians 3:3-4, Galatians 5:19-20).

Bringing Christ into your home, brings the Prince of Peace into your home. Make him center and king. This is the most powerful first step to creating and keeping peace.
Get free beautiful phone wallpaper with peace Bible verses.
Bring Shalom Home
Being a disciple of Christ means following in the pattern of the "Prince of Peace" (Isaiah 9:6). The meaning of the Hebrew for peace, "Shalom," is much richer than just "not fighting." It indicates safety, well-being, and wholeness.

Shalom brings rest, reconciliation, and restoration. Shalom leaves no room for false peace, for quiet contempt, or for unspoken grievances. It is a truthful and honest peace. Bringing shalom home means encouraging your family to be honest & authentic with each other.
Practice Peaceful Parenting
In the same scripture mentioned above the "prince of peace" is also called the "everlasting father." He is not the person of the Father in Heaven, but Jesus was fatherly towards those he discipled.

As parents and followers of Christ, we are to follow in his example of bringing peace and reconciliation to our parental roles.
"But all things are of God, who reconciled us to himself through Jesus Christ, and gave to us the ministry of reconciliation; namely, that God was in Christ reconciling the world to himself, not reckoning to them their trespasses, and having committed to us the word of reconciliation" (2 Corinthians 5:18-19

Rather than reckoning to them their trespasses, we can minister reconciliation to our family. Peacemakers leave their need for justice at the foot of the cross.
Be Humble
The Bible encourages us to proceed "with all lowliness and humility, with patience, bearing with one another in love; being eager to keep the unity of the Spirit in the bond of peace" (Ephesians 4:2-3).
When we are not at peace with another person, even a child, we need to first examine ourselves humbly before God (Matthew 7:45, Psalm 139:23-24). Are we protecting an idol, defending our pride, or lashing out in fear? Then, we need to repent.
Be Gentle
Gentleness has peace as it's goal and patience as it's companion. Perhaps you have "cleaned your side of the street," but there still isn't peace. With the grace and forbearance of our Father in Heaven, we can speak the truth in love.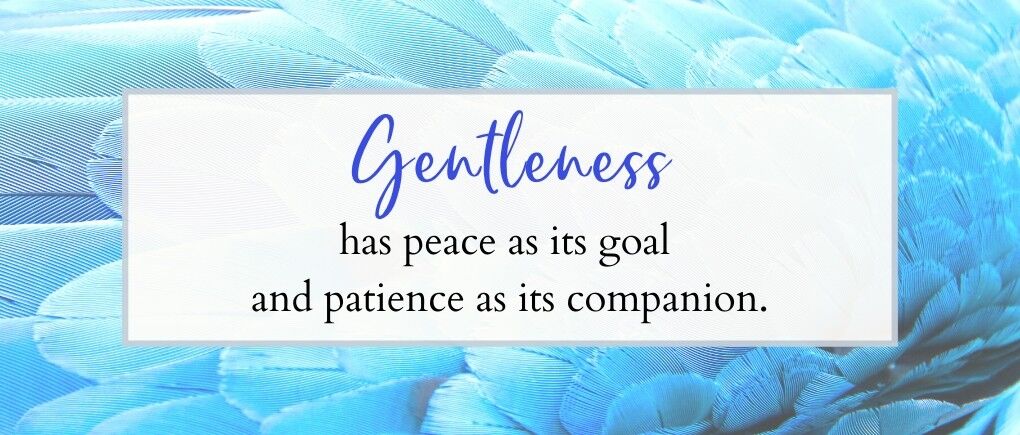 Correcting with kindness, mercy, and gentleness can be a powerful motivator for change (2 Timothy 2:24-25). We can gently confront the one who has sinned against us (Matthew 18:15).

It tells our children that we value our relationship with them over their behavior. Mercy gives them confidence that our love is not dependent on their being good. It encourages them to come to us when they do wrong, because they know we will respond with compassion, help, and prayer (Matthew 15:22, 17:15, Mark 9:14-29, Luke 23:34, Romans 8:34, James 5:16).

Gentle confrontation preserves unity and allows peace to prevail.
Read Gentleness – The Forgotten Fruit of the Spirit
Persist in Peacemaking
We can't force others to do what's right or to agree to peace. But when they act like an enemy, we can allow the lavish grace, unwavering gentleness, and incomprehensible peace of Christ to pour out from us by the power of the Holy Spirit. The fruit of the Spirit is peace (Galatians 5:22).

If your home hasn't been peaceful, it will take time to transition. Continue to be gentle, pray, and ask God to bring peace. "And the peace of God, which surpasses all understanding, will guard your hearts and your thoughts in Christ Jesus" (Philippians 4:5-7).

If you keep bringing peace into your home, you will convert your home into a sanctuary. Create peacefulness, starting with you.

This post contains several excerpts from Parenting In Christ: Training in the Disciplines of Jesus check it out to learn more! Don't forget to grab the free phone wallpaper with Bible verses about peace.

Otherwise you might enjoy reading:
How to Raise Grateful Kids

The Biblical Role of Parents

7 Godly Parenting Principles

Fruit of the Spirit
Godly Parenting
Peace