Surrender. especially in American culture, is rarely seen as something positive. It's seen as giving up or losing. But as a Christian, what does it mean to surrender to God?
Maybe you've sung the song in church, "I Surrender All." The words in the song say "all to thee I freely give." It doesn't sound like surrender from loss or coercion. However our best references as people of faith are not songs, but scripture. So let's dig in to see what the Bible has to say about surrender.
What it Means to Surrender to God
Looking at what it means to surrender to God in scripture, you may be surprised by what's actually in (or not in) the Bible about surrender.
Biblical Definition Of Surrender
Surrender means accepting that the battle has been won not on your terms, and you are willingly giving your life over to the authority of the winning side. It means taking a humble position and embracing what is over how you would have it.
So here's the thing about this surrender we sing about, it's not literally in the Bible. Across multiple translations surrender is only used under 20 times and in every case it refers to literal surrender. Here are a few examples from the NIV.
"They said to the Ammonites, 'Tomorrow we will surrender to you, and you can do to us whatever you like.'" (I Samuel 11:10).
"If anyone does attack you, it will not be my doing; whoever attacks you will surrender to you" Isaiah 54:15.
And the only New Testament verse:
"He released the man who had been thrown into prison for insurrection and murder, the one they asked for, and surrendered Jesus to their will." Luke 23:25.
If it's not talked about so much in scripture, should surrender be a part of our walk of faith? Yes, I believe so. Read on to find out why.
Surrender In The Bible
The discipline of spiritual surrender is evident and encouraged throughout scripture.
Spiritual surrender is an act of faith, keeping hope alive by choosing defeat over death. It is the first act for those coming to salvation, and a continual habit of those walking with Christ. To spiritually surrender means to let go of control and trust God.

To surrender to Christ is a decisive blow to our flesh. "I have been crucified with Christ, and it is no longer I that live…" (Galatians 2:20). But that's not the end of the verse.
When you surrender to Christ you receive new hope and new life: "…but Christ living in me. That life which I now live in the flesh, I live by faith in the Son of God, who loved me, and gave himself up for me."

Yes, you must give up or surrender your old self, but when you do, sin's power over you is broken. "knowing this, that our old man was crucified with him, that the body of sin might be done away with, so that we would no longer be in bondage to sin" (Romans 6:6).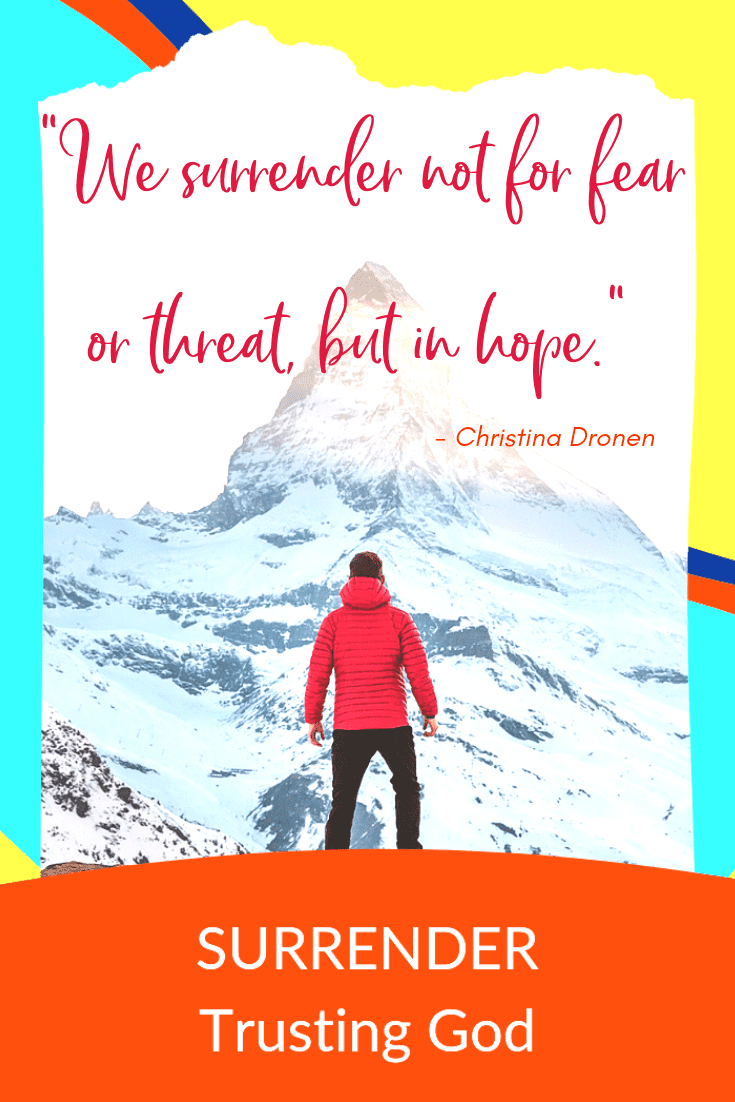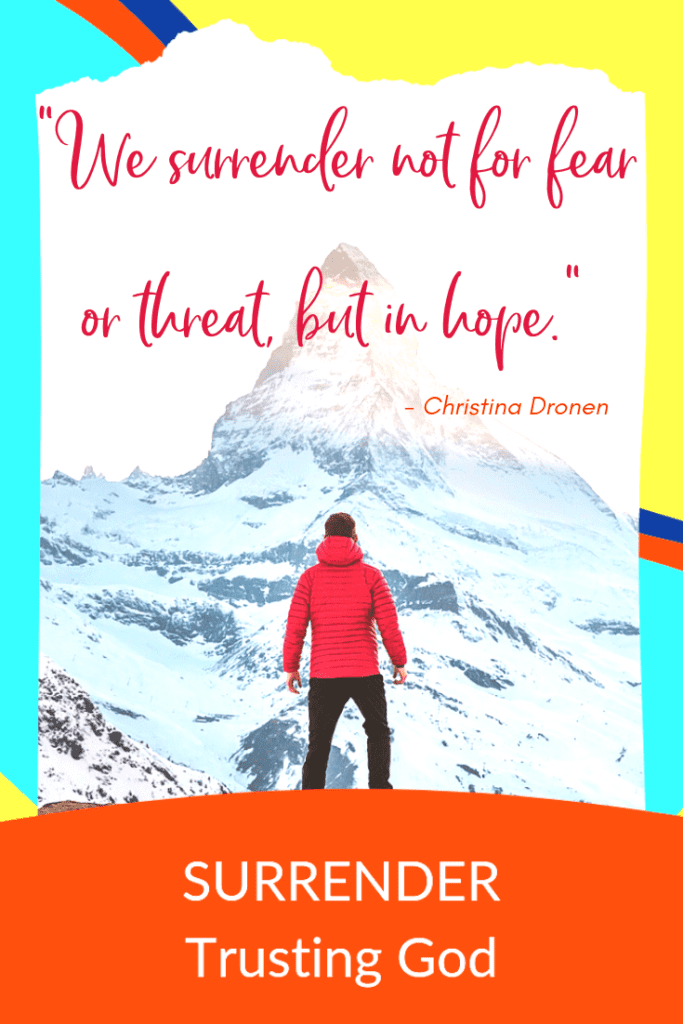 When you surrender to Christ, you aren't surrendering your God-given identity and uniqueness. You aren't giving up as a defeated hero, but as a refugee from this world, escaping a life of slavery, starvation, and abuse.
We surrender not for fear or threat, but in hope that the One to whom we surrender has a better life for us. And that hope doesn't disappoint.
A Biblical Example Of Surrender
The returning prodigal son in Luke 15:11-32 is a picture of what it means to surrender to God. The son gives up on his way of life and runs back to the father hoping to be a servant.

His surrender is met with rewards beyond his expectations. He is received with open arms, lavish love, and a new life as a restored son.
Jesus lived a life of continual surrender to the Father. As he said, "Most certainly, I tell you, the Son can do nothing of himself, but what he sees the Father doing. For whatever things he does, these the Son also does likewise" (John 5:19).
And as He said to the Father when the time came to surrender his life, "not my will, but yours, be done" (Luke 22:42).
Walking with Christ means continual surrender, trusting that the God who made your children has a plan for them and loves them more than you. and giving up control.
Trusting God In Times Of Uncertainty
Right now the world is a bit topsy turvy and things may feel out of control. Maybe you don't what to trust or who to trust. If it feels overwhelming, please know you are not alone and your feelings are normal.
But as people of faith, we are blessed with some certainties.
One day Jesus will return and bring healing and justice.
God will never leave you or change His mind about loving you.
Surrendering To God In Parenting
Parenting in a way that honors Christ requires a great deal of surrender. For moms, it starts with surrendering to the discomforts and changes of pregnancy. Later it means giving up your sleep, your schedule, and having your way.
To surrender also means giving up our parenting fears, which assume the worst and make us over-protective. Our fearfulness stifles growth and produces fear and frustration in a child.
We are to protect our children, not to serve our own anxieties, but to serve a God who will hold us accountable for the care we give
We don't own our children, we are their stewards for God. In the parable of the talents, Jesus warns us about letting fear drive our stewardship (Matthew 25:24-27). Proper care requires taking reasonable risks. If we are overprotective, we stand in the way of our children maturing as God intends them to.
How To Surrender To God And Let Go
If you feel yourself fighting for control or feel overwhelmed by fear and anxiety, it's a sign you need to let go. Repent and turn away from doing things your way and lean on God.
Romans 2:4 says God's kindness is intended to lead you to repentance. So trust that you will receive relief and rest when you surrender. His goodness will motivate you to let go. Read and meditate on verses that remind you of these truths. Here are a few.
"And those who know your name put their trust in you, for you, O Lord, have not forsaken those who seek you" Psalm 9:10.
"For whoever would draw near to God must believe that he exists and that he rewards those who seek him" Hebrews 11:6

"Casting all your anxieties on him, because he cares for you" I Peter 5:7
Surrender To God in Prayer
To practice proper Christian surrender requires turning in your fears and anxieties for prayer (Philippians 4:6). You are surrendering to Him so talk to Him. You are coming to God for healing and hope, so ask.
I recently told God I wanted to give up "being quick to anger" – being snippy with my kids.
I had been looking at the verse almost daily "be quick to listen, slow to speak and slow to become angry" James 1:19. Get this verse as a free downloadable phone wallpaper. I do believe it helps to read this scripture often.

And then I prayed. That's it. I just said it. I prayed it. And somehow without any great effort, no plan, no striving – I stopped being snippy – at least for a while. I give God full credit.
Final Thoughts on What it Means to Surrender to God
Sometimes, especially when it comes to struggling in the flesh, surrender is more effective than our striving. It's ironic to struggle with surrender, isn't it? Surrender is about ending thriving and fighting.

Will I be snippety again someday? I expect so. I'm still here with my flesh. But then I'll surrender again.
Excerpts from Parenting in Christ: Training in the Disciplines of Jesus
Lesson 1 – Surrender
What one thing would be the most difficult thing for you to give up for the rest of your life? In what ways do you need to surrender more to God as a parent?
Find this helpful? You may also enjoy:
How To Teach Your Kids Biblical Integrity

Biblical Stewardship