Our research shows that gentleness is the most overlooked fruit of the Spirit, and not by a little. So, you might be surprised to know the Bible has much to say about gentleness. Join us here for a short study on gentleness in the bible and how to live it out.
God provides many examples of gentleness in the bible, Jesus himself being the best model. Some view being gentle as weak. However, there are many situations for which it requires great strength of character and self-control to be gentle.

To me, it's important to raise my children with gentleness and tenderness. If this is also important to you and you want to teach your children how to be kind and loving, then we'll benefit from learning what gentleness means in the Bible.
What Gentleness Means In The Bible
Before we can begin to unpack what it means to have gentleness we must first look into the meaning of the word. What is the definition of gentleness?
Gentleness is the quality or characteristic of being kind, tender, mild-mannered, compassionate, and considerate. To be gentle means showing love and care for others in how you act and speak. To have gentleness is to have a gentle spirit or nature about you.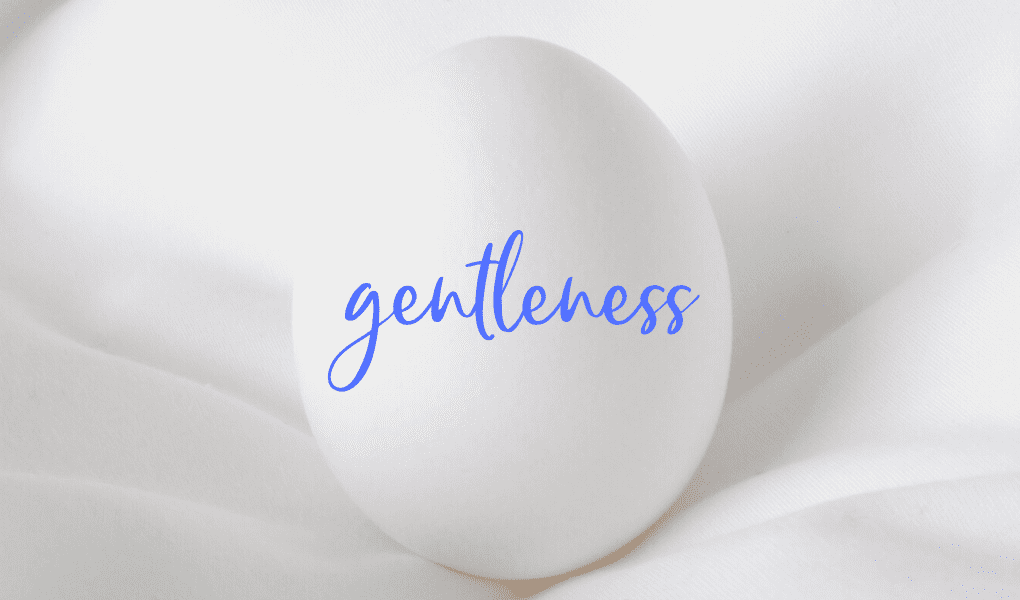 This post may contain affiliate links which means I may earn a small commission at no extra charge to you, if you choose to purchase through one of the links on this page. You can read my full affiliate disclosure here.
Gentleness According To The Bible
In the Old Testament, gentleness is illustrated in the bible as a stream or river (Isaiah 8:6) and also to a shepherd caring for his flock of lambs (Isaiah 40:11). God himself spoke to Elijah as a gentle whisper (1 Kings 19:11-13). From these examples of gentleness in the bible, we can picture a soft touch, calm reassurance, and a loving hand.
In the New Testament Jesus comes as the perfect example of being "gentle and humble of heart" (Matthew 11:29). Paul then continues to model gentleness in the way he preaches (1 Thes 2:7 and 1 Cor 4:21). These great examples of gentleness help us to see practically what that looks like in everyday life.
There is a strong connection in the bible between gentleness and the power of words. Proverbs indicates that gentle words turn away wrath and are a tree of life (Proverbs 15:1,4). These verses can be applied to any relationship or interaction with have with others.

The power of our words can be life-giving and diffuse a tense situation. It is important to remember that as Christians we are called to more than this.
In sharing the good news of the gospel we are to do so with gentleness and respect (1 Peter 3:15-16). In doing so we will win over those who hear us. Other faithful followers found this to be true (Job 29:22, 2 Timothy 2:25). We are to be calm and respectful when speaking with others. Speak the truth but watch your tone so that the truth will be well received, however painful it may be.
Gentleness in the bible means showing care and respect for others in the way that you act and speak.
Why Gentleness Is So Important
As a Christian, you demonstrate the Spirit at work in your life when you show gentleness. It is important to Christians because it is important to God.
You and those around you reap many benefits by prioritizing gentleness. When you treat others gently you gain trust and respect. Being gentle makes others more willing to listen to you.

Fighting destroys relationships and takes so much time to repair. You can prevent inciting anger by choosing to respond with gentleness. Doing so creates a closer connection and will save you from needless hardships in your relationships.
As a parent, I see gentleness as one of the most important character qualities we need to focus on in our family. So much of the peace and harmony we seek is directly affected by how we treat others.
10 Ways To Demonstrate Gentleness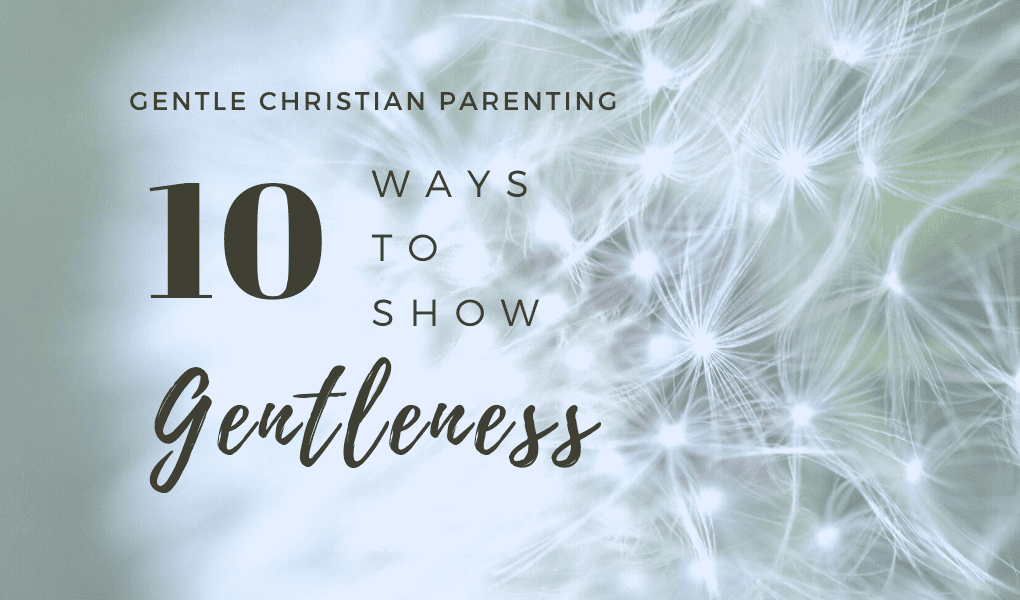 So now that we understand the call to gentleness and its many benefits, how do we put it into practice?

Here are 10 ways you can show gentleness:
Be considerate of others' feelings and needs. When you do this you can then look for ways to meet those needs and truly help work through those feelings.
Show empathy. Empathy is acknowledging another person's point of view to understand their feelings.
Be Patient. As Ephesians 4:2 says, "Be patient with each other, making allowances for each other's faults because of your love." (NLT)
Remember the Golden Rule: Treat others the way you would like to be treated.
Speak respectfully to everyone. Consider others as important and worthy of kind regard. Watch your tone so that what you have to say will be well received.
Seek peace. Search for solutions and common ground
Be a calm presence.
Act with tenderness and love.
Listen more than you speak or act (James 1:19).
Be humble as you serve and care for others.
Bible Verses on Gentleness
Here are some bible verses on gentleness to encourage and build you up. As you seek to grow more gentle, focusing on or memorizing these verses will strengthen you and help you be more successful. The bible verses are quoted below in the NIV version, but if you click the links, you can see the verse in other translations.
"Therefore, as God's chosen people, holy and dearly loved, clothe yourselves with compassion, kindness, humility, gentleness, and patience" (Colossians 3:12).
"But the fruit of the Spirit is love, joy, peace, forbearance, kindness, goodness, faithfulness, gentleness and self-control. Against such things there is no law" (Galatians 5:22-23).
Download This Fruit Of The Spirit Bible Verse For Your Phone
"But you, man of God, flee from all this and pursue righteousness, godliness, faith, love, endurance and gentleness" (I Timothy 6:11).
"Brothers and sisters, if someone is caught in a sin, you who live by the Spirit should restore that person gently. But watch yourselves, or you also may be tempted" (Galatians 6:1).
"Remind the people to be subject to rulers and authorities, to be obedient, to be ready to do whatever is good, to slander no one, to be peaceable and considerate, and always to be gentle toward everyone" (Titus 3:1-2).
"A gentle answer turns away wrath, but harsh words stir up anger" (Proverbs 15:1).
"Gentle words are a tree of life; a deceitful tongue crushes the spirit" (Proverbs 15:4).
"Always be humble and gentle. Be patient with each other, making allowance for each other's faults because of your love" (Ephesians 4:2).
Download these beautiful gentle scripture cards for free here!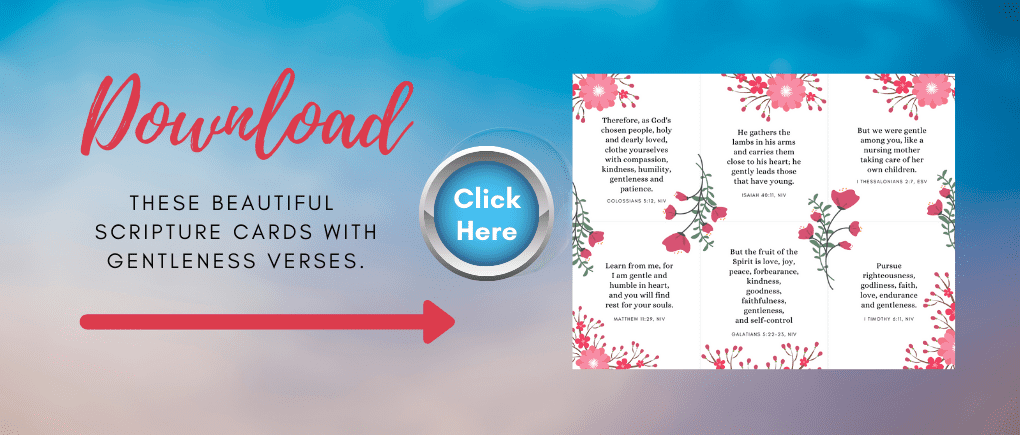 Next Steps For Parenting With Gentleness
If you are looking for a more in-depth gentleness bible study, there are many bible study tools and bible dictionaries to help you. You can also check out these gentle parenting bible study discussion guides.

This post was written by guest blogger Meaghan Jackson of Gentle Parenting Coaching. Meaghan is a homeschooling mom of 3 boys and a gentle Christian parenting coach. For more help incorporating gentleness into your parenting, consider working with Meaghan.

Learn More About Meaghan here.

Enjoy this post? You may also enjoy:

The Responsibilities of a Parent in the Bible

Children Should Be Seen and Not Heard – A Biblical Perspective

Free Bible Verse Coloring Pages – (including the fruit of the Spirit bible verse)
Biblical Parenting
Christian Character
Fruit of the Spirit