As Christian parents, it's part of our biblical calling to teach our children the Bible. But jumping right in can be challenging unless we have an age-appropriate translation. So what is the best children's Bible?

We'll explore some options below as well as other resources to help grow your children's knowledge of the Bible.
Best Children's Bible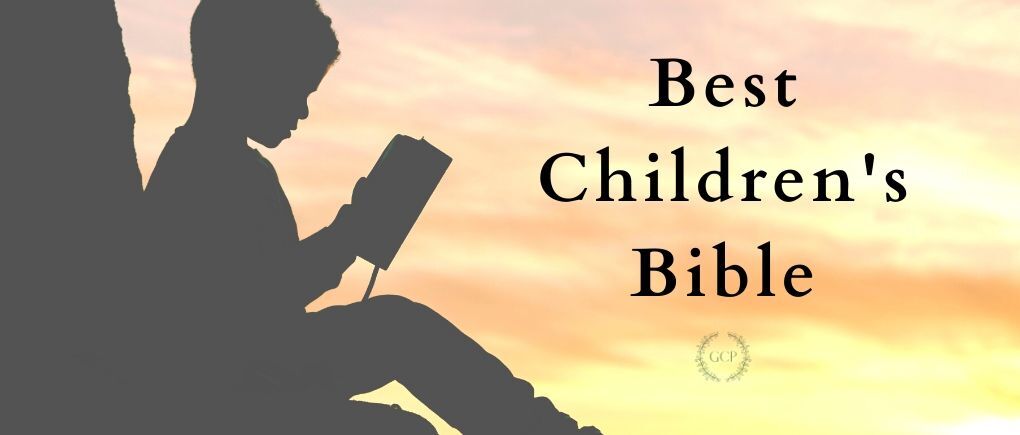 This post may contain affiliate links. When you shop through my links, I earn a small commission at no cost to you. Read my full affiliate disclosure.
Picking out the best children's bible for your kid's age and stage is important. Here's a short story that helps explain why.
A mom friend of mine shared that her six year old had asked her, "How do you gouge someone's eyes out?" When her mom asked where she had heard of such a thing, it was discovered that she had read about it in the story of Sampson and Delilah. She decided to find a more age-appropriate bible for her 6 year old!
Personally I am a fan of teaching about Jesus first, and most Christian leaders recommend starting in the gospels no matter what your age. For your child, the gospel message should come first through the way you engage with them, even before they have or understand words.
As they come to understand language, it's important to put words to the kindness, gentleness, self-control, etc they see in you. You can then share how this is the way of Jesus who has helped formed these qualities in you. Below I share some of my personal favorites for ages and stages.
Best Bibles for Toddlers
I'm a big fan of smaller board books for the littlest ones. Paper pages are quickly destroyed by kids under 4. We like our fuzzy covered tiny bear Bible. For the holidays I like taking some extra time to review The Story of Christmas and The Easter Story books individually. They're best sized for the little ones' short attention spans.
Best Bibles for Preschoolers
There are some great options for preschoolers. I feel like this is where children's Bibles really start to shine. The best in my opinion (and many others) is the Jesus Story Book Bible!
The Jesus Storybook Bible is narrative, full of pictures, and ideal for preschool to elementary aged kids. Every story points back to Jesus.
If you choose to, you can read one story a day over advent starting December 1st. And this will lead you up to the Christmas story on December 25th.
God Made All Of Me is not a bible, but a biblical book celebrating God as creator and our bodies as His special creation. It does a great job explaining body boundaries and is an important biblical lesson to teach preschoolers.

Beware that the content written to parents is heavier and appropriate only for parents. I recommend not leaving it unattended for the more advanced readers to explore on their own.

It basically talks about protecting your children from predators. Important, but could scare a younger child.
For more ideas on little kid Bibles, Kingdom Bloggers has a great list of 10 bibles for babies and toddlers.
Best Bibles for Elementary Aged Kids
For early readers the International Children's Bible and Easy to Read translations of the Bible will be the easiest for your children to digest.
The International Children's Bible Translation
The International Children's Bible Translation (ICB) is the first Bible translation made specifically for children. It's written at a 3rd grade reading level. The Easy to Read version (ERV), which I prefer, is written at a 4th grade reading level.
The ERV is what I chose for my Bible study discussion guide: Growing In Christ: Lessons from the Parables for Kids. So obviously I think it's a pretty great translation too. ICB & ERV are fairly interchangeable, but I feel ERV is more accurate.

Finding this helpful? Pin it! –>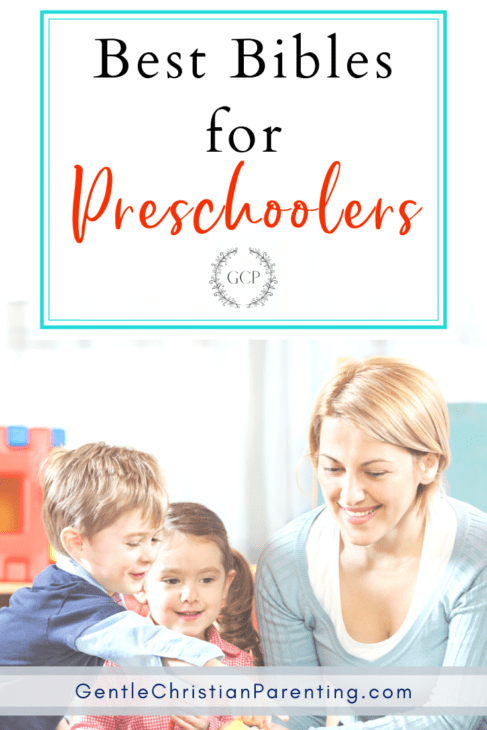 The Authentic Youth Bible is a popular choice in the ERV and includes 164 pages of additional Bible study material, 24 colour topic based inserts covering subjects such as relationships, peer pressure and trusting God and 275 'Insights' which help explain the meaning and context of key passages.
This ICB translated Bible is intended for younger elementary kids. It has a hard cover and comes with additional resources to help kids understand it. This includes resource pages, maps, and colorful illustrations.
Scripture Lessons for Older Kids
If you'd like a good book to help disciple your preteen or teen, check out my Bible study discussion guide, Growing in Christ: Lessons from the Parables for Kids!

It's geared for kids about 8 years old and older. The short lessons make it great for a family devotional time, too.

The guide draws kids to learn and apply lessons from the parables, especially in building Christ-like qualities and character.
Best Children's Bible Apps
Children love screens. Sometimes it's more appealing to them to connect with the Bible via an app.
My two favorite apps are FREE! They have interactive Bible stories kids can engage with and learn.
Bible for Kids by Life Church
and
Superbook Kids Bible by the Christian Broadcasting Network
Some Final Thoughts on the Best Children's Bible
As we teach our children the Bible, it's important we discuss it with them and ask questions. No matter which version or story Bible you read, discussing the Word will help them process and personalize it.

Getting the best children's Bible doesn't guarantee your child will come to a full understanding of faith. Faith is meant to be built in loving community, with discipleship and prayer. It requires effort and intention on our part as parents.
If you enjoyed this post, you'll also like:

7 Godly Parenting Principles

How to Teach Kids of Biblical Integrity

The True Meaning of Repentance
Biblical Parenting
Teaching Kids