When you become a parent, you take on a role unlike any other. Even if you have been a babysitter, big sister, or fabulous fun Auntie -it's not the same as being a parent. If you're wondering, what does the bible say about parenting? You've come to the right place.
Before you had kids (or thought about having kids) you probably didn't spend a whole lot of time looking at the bible through that lens. Or maybe you became a parent before you became a Christian and you're wondering how your new faith should impact your role as a parent. Either way, I hope by exploring this together here, you can get a better handle on what the Bible has to say about the role of parents!
The Role of A Parent
This contains affiliate links. I may earn commissions at no extra cost to you, if you shop through the links on this page. Read my full affiliate disclosure.
Depending on where (or when) you live, the answer changes. The role of a parent is often defined by a culture's view of what a child is, needs, and is capable of. Cultures and laws around the world and across history have treated children with a variety of perspectives – some treating children like property, animals, or like short adults.
Even in our current culture and time, there are variety of parental styles with their own nicknames – such as the helicopter parent, the tiger mom, and free-range parent. Each of these parenting styles have the parents doing a dance around a belief system about the needs, nature, and capabilities of children. In other words, our beliefs , especially about children, inform the role of being a parent. As Christians, that means looking to the bible to help us understand our role.
Parents Role in the Bible
The biblical role of a parent is to be a good steward of the children God has put into their care. A parent has the responsibility to care for the spiritual, emotional, and physical well-being of their children. The most important biblical duty of a parent is to teach about Jesus in action and word.

God's Word as revealed in the bible, helps us understand who we are, who God is, and the relationship between God and humanity. Eternal and often uncomfortable truths are revealed about our nature, our souls, and our history. In knowing and teaching God's word to your children, you can best lead them to Christ.

As a parent, here are three big truths from the bible about parenting you need to know. At least, I wish I had known this earlier on in my parenting. Knowing these as you go forward in your parenting journey will help frame your expectations.
One: You don't own your kids. God does.
"Behold, all souls are mine; as the soul of the father, so also the soul of the son is mine" (Ezekial 18:4, WEB)
"The earth and everything in it, the world and its inhabitants, belong to the LORD" (Psalm 24:1, HCSB)

This truth is such a vital one to hold on to. It's so easy to start to believe that you own "your kids." Legally, in many countries, including many ways the U.S. law regards children, they are still treated more as property than persons. We must not let this worldly view infect ours. Your children are God's, you, as parents, are their stewards..
Pin this this for later! –>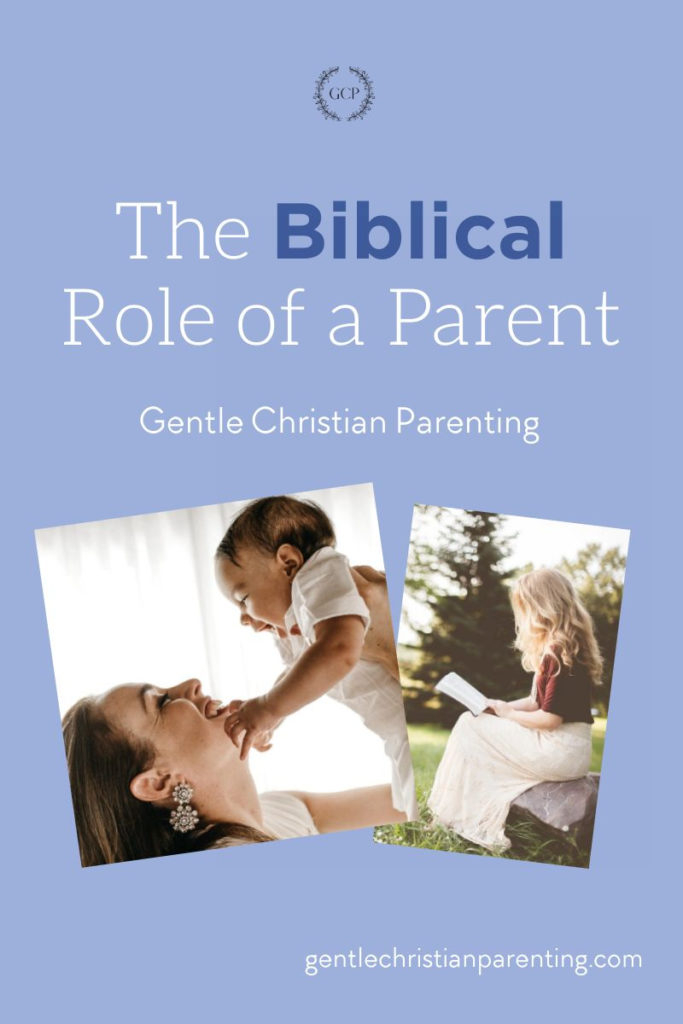 Two: You will experience great joy and sorrow because of your children.
"A wise son makes a glad father; but a foolish son brings grief to his mother" (Proverbs 10:1, WEB).

When I became a mother I never considered how deeply my heart would become intertwined with my children. Just the sight of one of my kids starting to tear up will immediately well up tears in myself. Watching my littlest one giggle, brings instant delight to my heart, too.
Three: It's good to let go as your children grow.
"Therefore a man will leave his father and his mother, and will join with his wife, and they will be one flesh" (Genesis 2:24, WEB).
How soon should you let go and how much? It's hard to say and truly does depend on your family and even which particular child within your family. One thing's for sure, your job description as a parent changes about as often as you "figure it out."

It's hard to let go sometimes, but remembering that these kids don't belong to you and never did, may help. Also the natural development and (sometimes annoying) behaviors of kids as they become independent can also help you let go.
Bible Verses About Parenting Responsibilities
We are stewards, but just because we don't own our children, doesn't mean we don't have responsibility for their well-being. If you have a duty to care for something you don't own, then you are a manager or steward.
If your primary responsibility as a parent is to be a good steward of your children, then you need to treat the position with the reverence it is due. God has high standards for stewards and He will hold you accountable.
Your primary responsibility as a parent is to a be good steward of the children God has put into your care. #Christian #Stewardship #Parenting
Click To Tweet
What does it mean to be a good steward as a parent? Here are 3 main areas of responsibility for parents and the Bible verses to remember along with them.
Parent's Spiritual Responsibility
As a parent, you have the responsibility to tend to your children's spiritual growth and education. We are a child's first witnesses to the gospel. Sharing Jesus is our most important duty.
"Nurture them in the discipline and instruction of the Lord" (Ephesians 6:4, WEB).
"Train up a child in the way he should go, and when he is old he will not depart from it" (Proverbs 22:6, WEB).
Parent's Duty To Tend To Emotional Health
You have a responsibility to care for your children's emotional well-being. Their emotions matter. Added benefit, kids who feel good, act good. Treating your children with gentleness helps them stay responsive to instruction and correction.
"Fathers, don't provoke your children, so that they won't be discouraged" (Colossians 3:21, WEB).
"You fathers, don't provoke your children to wrath" (Ephesians 6:4).
"Brothers, even if a man is caught in some fault, you who are spiritual must restore such a one in a spirit of gentleness; looking to yourself so that you also aren't tempted" (Galatians 6:1).
Parent's Duty to Meet Physical Needs.
You are responsible to provide for your children's physical needs. This means providing food, water, shelter, clothing and more.
"But if anyone doesn't provide for his own, and especially his own household, he has denied the faith, and is worse than an unbeliever"
(I Timothy 5:8).
"A good man leaves an inheritance to his children's children"
(Proverbs 13:22).
These are just a few of the great number of bible verses that speak to the responsibilities of proper stewardship, an essential to biblical parenting.
Examples of Good Parents in the Bible
There are many great parenting moments in the bible, and definitely some bad ones too. I've chosen three examples of roles that stand out to me, as good examples for the rest of us parents. The last of these, of course, being the best.
Mothers In The Bible
There are a great many wonderful role models for mothers in the bible. Mary, the mother of Jesus was humble before God and willing to surrender her Son for God's purposes. Sarah, the mother of Isaac, was also called bu God the "mother of nations." Her faith is credited to her in Hebrews 11:11-12.
"By faith even Sarah herself, when she was unable to have children, received power to conceive offspring, even though she was past the age, since she considered that the One who had promised was faithful. Therefore from one man—in fact, from one as good as dead—came offspring as numerous as the stars of heaven and as innumerable as the grains of sand by the seashore."
Hannah's story can be found in I Samuel 1. Hannah was sorrowfully barren and prayed for a child which she promised to surrender to God. When God gave her a son, she raised him until he was weaned, then brought him to the temple to serve. She prayed for her son, cared for him, and surrendered him to God.
The Good Father in The Bible
In the parable most known as "The parable of the prodigal son,"(Luke 15:11-32) Jesus tells about a father who gives lavishly to both of his sons. One goes off to live foolishly and the other stays home resentfully. It's not his lavishly giving money and things that makes him a good father, but that he gives of himself so lavishly. He is low on judgement and big on mercy.
If you want to examine the duties of a father in the bible, this example of a good father can't be missed. This father lived in such a way that the wayward son knew, even if only received as a servant, he would still live better under his father's care.

His father puts aside his own pride to run to his messy son with open arms and welcome him back to the family. As for the older son, this father seeks him out, too, when he refuses to celebrate his brother's return.
Jesus
No I'm not saying Jesus had physical children, like we do. But Jesus was called the "Everlasting Father" in Isaiah 9:6. While on Earth, Jesus was fatherly towards his disciples. He even called them "little children" in Matthew 11:25 and told them he would not leave them "as orphans" in John 14:18.
If you are looking for a good earthly example on how to be godly parent – providing, protecting, guiding, correcting, teaching, preparing, modeling, encouraging, and loving – it doesn't get better than Jesus with his disciples. I've written 3 Bible Study guides called Parenting In Christ, if you'd like to dig deeper.
Some Final Thoughts on Your Biblical Role As A Parent
There's a great deal more in the Bible than I've gone into here about the role of a parent. Keep in mind that just because a particular scripture is not directly addressing parents, that doesn't mean it doesn't apply to parenting.
Everything that applies to the role (being stewards, leaders, and teachers) as well as every verse that talks about the "other" (love one another, etc) applies to parents. In all we do as Christians, we are to follow in the pattern of Jesus. I didn't say it specifically above, maybe because it doesn't feel like a responsibility, but we do have a duty to love our children.
It's good to wary of "Christian" advice which doesn't sit well with you. It can be tainted by worldly influences and worries. Ask the Holy Spirit, pray, and research scripture for yourself before trying any parenting advice.
God doesn't want us to focus on a set of rigid rules, styles, or procedures. He is our Father who wants a relationship with us, so that we keep seeking and asking Him. It is in continual dependence on Him that we can live into our biblical role as parents.
If you'd like to read more on this subject, check out:
Teaching Your Kids Biblical Integrity
How to Love Your Kids Like Jesus

If you really want to dig deeper on what to teach your kids, check out my Bible study discussion guide, Parenting in Christ: Training in the Disciplines of Jesus.