An essential practice of Christ-like living is the exercise of self-control. It may help you to know that the word for self-control in the bible, doesn't have the same connotations of our modern understanding.

Through the course of coming to understand biblical self-control, why it's important, and how scripture tells you it functions, you can be better equipped to have it and use it. As a parent, you can also then better teach your child to have self-control, having pulled the plank from your own eye.
What Self-Control Is And Why It's Important
Self-control is described in Galatians 5:23 as a product of having the Holy Spirit. According to Strong's Concordance the word here, ἐγκράτεια, is "self-control – proceeding out from within oneself, but not by oneself." Jesus, the expert on overcoming temptation (Hebrews 4:15), has left us a Helper when it comes to self-control, the Holy Spirit (John 14:26).
So really, as people of faith, we might do better to call it "With the help of the Holy-Spirit control," but that's probably a little too lengthy. And that's not the whole enchilada, either.
There's another important aspect of self-control in the bible. We are told to choose self control in the following verses.
"But the end of all things is near. Therefore be of sound mind, self-controlled, and sober in prayer" (I Peter 4:7).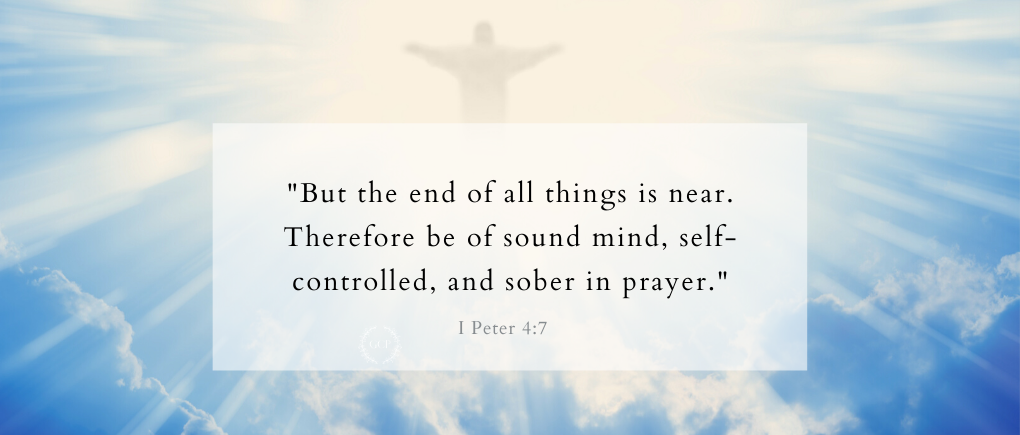 "For this very reason, make every effort to supplement your faith with goodness, goodness with knowledge, knowledge with self-control, self-control with endurance, endurance with godliness," (2 Peter 1:5-6).
So self-control is both something we make an effort for and receive. It is done in collaboration with the Holy Spirit – not by Him for us, nor by us without Him. Biblically, self-control means choosing to give up trying to control things on our own, surrendering to God for help, and working alongside Him for real change.
Why Self-Control Is Important
If you don't choose to rely on the Holy Spirit and aim to make right choices, you'll be ruled by whims. And without self-control you can't become your best self.

Jesus gave up his life so that we could be set free from sin and death. Our freedom is meant to be used to glorify God. When we give up a life being ruled by desires that come and go, we can discover the better and more meaningful life God has for us.
As Jesus said to his disciples, "If anyone desires to come after me, let him deny himself, and take up his cross, and follow me. For whoever desires to save his life will lose it, and whoever will lose his life for my sake will find it" (Matthew 16:24-25)
The Benefits Of Self-Control In The Bible
Scripture also speaks to the many benefits of self-control. Below are some verses and key takeaways from scripture on self-control.
Self-Control Protects You
A man without self-control is like a city broken into and left without walls (Proverbs 25:28).
It Makes You More Attractive
"Likewise also that women should adorn themselves in respectable apparel, with modesty and self-control, not with braided hair and gold or pearls or costly attire," (I Timothy 2:9, ESV)
Note the word here for self-control is σωφροσύνης. It means being sober-minded. Whereas the other word was more about your behavior and having mastery over your actions.
Self-Control Benefits Your Testimony
"Likewise, exhort the younger men to be sober minded. In all things show yourself an example of good works" (Titus 2:6).
In this verse, the word for self-control is σωφρονέω or sober-minded.
Teaching Self-Control
If you want to succeed and help your kids to succeed, spend time mastering self-control and teaching your kids to do the same. Self-discipline doesn't come easily or naturally. It must be learned.
"Egkrateia" is also described as mastery, as in having mastery over fleshly desires and passions. Mastery over anything is not accomplished overnight, but with careful and persistent effort. Self-control is a skill that can be taught and a muscle that can be grown, but it takes time and practice.
In the beginning, our kids require us to step in and hold the boundaries. But our end-goal as parents should be to move our children from being managed by us to being self-managed with Christ. Children need instructions to help them learn how to master their impulses. Here are some lessons from scripture on how to overcome temptations.
5 Biblical Keys To Master Self-Control
1. Expect trials and temptations. And pray.
"Beloved, don't be astonished at the fiery trial which has come upon you, to test you, as though a strange thing happened to you" (I Peter 4:12). This same word for trial, "peirasmon" in the original Greek is also translated as temptation, such as Jesus used in teaching us to pray "Bring us not into temptation" (Matthew 6:13).
2. It's a battle. It can be hard and frustrating.
Choosing right when faced with temptation is much easier said than done. "For I delight in God's law after the inward man, but I see a different law in my members, warring against the law of my mind, and bringing me into captivity under the law of sin which is in my members.
What a wretched man I am! Who will deliver me out of the body of this death? I thank God through Jesus Christ, our Lord! So then with the mind, I myself serve God's law, but with the flesh, the sin's law" (Romans 7:22-25).
3. Christ has won the battle, has set you free from the power of sin, and has empowered you to make the right choices.
"Knowing this, that our old man was crucified with him, that the body of sin might be done away with, so that we would no longer be in bondage to sin" (Romans 6:6).
4. You are meant to do good things with the freedom and power you have been given.
"For we are his workmanship, created in Christ Jesus for good works, which God prepared beforehand, that we should walk in them" (Ephesians 2:10).
5. You never have to battle alone. The Holy Spirit will help you overcome temptation.
"But I say, walk by the Spirit, and you won't fulfill the lust of the flesh," (Galatians 5:16).
God is faithful, who will not allow you to be tempted above what you are able, but will with the temptation also make the way of escape, that you may be able to endure it" (I Corinthians 10:13).
<< Pin this for later!
Final Encouragements On Biblical Self-Control
In Christ you are called to live into the best life that God has always intended for you, and to honor Christ's sacrifice by worshiping God with your choices. This isn't just for God's benefit, but yours.
It's worth the effort and sacrifice. And truly, as time goes on you will get better at it. If you'd like more help, I've put together self-control worksheets.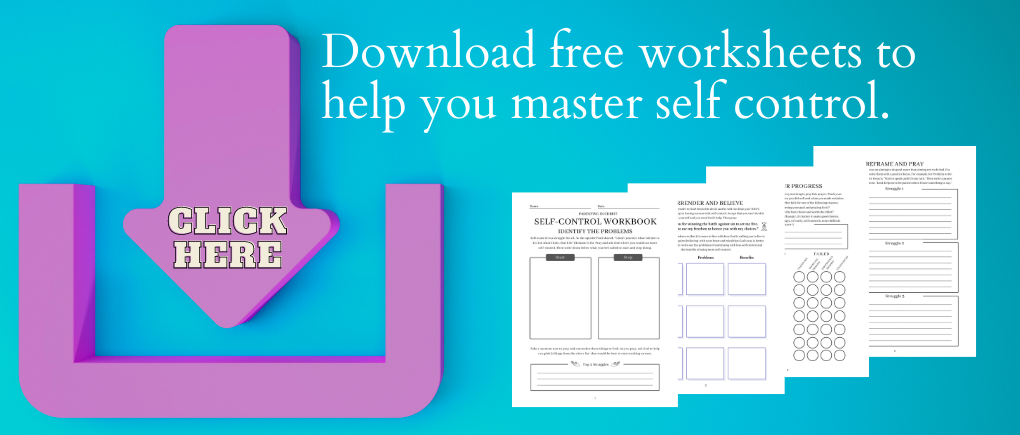 Find this helpful? You may also enjoy:

7 Godly Parenting Principles
The Fruit Of Gentleness In The Bible