Do you want to learn more about what the bible says about child discipline? Perhaps the most pointed verse regarding child discipline in the bible is from Ephesians 6:4. It says, "You fathers, don't provoke your children to wrath, but nurture them in the discipline and instruction of the Lord" (World English Bible).

To nurture your children "in the discipline and instruction of the Lord" is to make disciples of our children. Discipling your children starts with you sharing the gospel and person of Christ in your words and actions.
Then, when your makes the choice by grace to follow Jesus, it becomes your job, to teach them in word and action to live like Jesus and to treasure him above all else. We are going to dig into that process below.
The Biblical Definition Of Discipline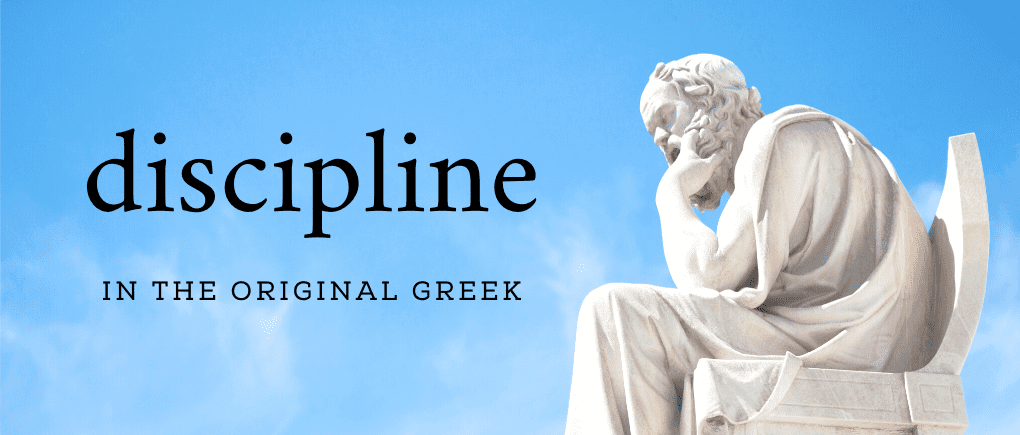 The word for discipline in Greek is "paideia," also translated as "training." Merriam-Webster defines paideia as "training of the physical and mental faculties in such a way as to produce a broad enlightened mature outlook harmoniously combined with maximum cultural development." For the Greeks, paideia was a schooling and socialization for the aristocracy. It was a sort of finishing school for the upper class.
Christian discipline matures, educates, and strengthens you, molding you into the likeness and holiness of Christ. It means adhering to the set of beliefs and actions that Jesus held, despite difficulties and temptations. Christian discipline is an important part of nurturing a person from a convert into a disciple.

In his book, The Spirit of the Disciplines, Dallas Willard states, "A discipline for the spiritual life is, when the dust of history is blown away, nothing but an activity undertaken to bring us into more effective cooperation with Christ and his Kingdom."

Adhering to the spiritual disciplines of the Lord shapes you into the likeness Christ. To be shaped, you must be softened. That means you must be humble and willing to be changed.
When you adopt spiritual disciplines, you honor the work of redemption Christ did in you, making you fruitful and effective for his kingdom. Adopting the spiritual disciplines leads you from salvation to sanctification.
Examples Of Discipline In The Bible
The spiritual training of Timothy by Paul was paideia. Paul encouraged Timothy, but also admonished him gently from time to time. And he instructed Timothy (and us) to do the same in I Timothy 2:24-25.

"The Lord's servant must not quarrel, but be gentle towards all, able to teach, patient, in gentleness correcting those who oppose him: perhaps God may give them repentance leading to a full knowledge of the truth."
Paul encouraged Timothy towards self-discipline in 1 Timothy 4:7-8, saying:

"But refuse profane and old wives' fables. Exercise yourself toward godliness. For bodily exercise has some value, but godliness has value in all things, having the promise of the life which is now, and of that which is to come" (I Timothy 4:7-8).

Paul compared spiritual discipline to bodily training which is a shadow of spiritual truths. And so, as parents and disciple-makers of our children, we should gently encourage and admonish them as they grow and mature spiritually.
The Difference Between Discipline And Punishment
"Nurturing" your children "in the discipline and instruction of the Lord" means feeding them God's Word. It means teaching them and guiding their behaviors so that learn what it means to follow Jesus.

Christian disciplines are not the gateway to salvation. Misplacing them there will lead you to perfectionism and judgment. Rather, they are gentle guardrails intended to keep you moving towards holiness without running off the road.
Julie Andrews once said, "Some people view discipline as a chore. For me, it is a kind of order that sets me free to fly."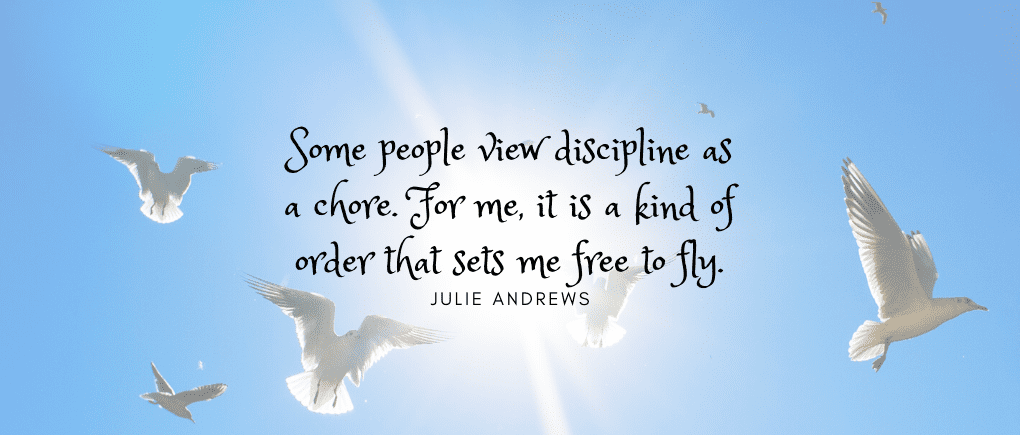 Punishment, on the other hand, seems to have no place in Christian living. When you come to Christ, and die to yourself, you surrender the right to judge and punish. That right belongs to God alone.

As Romans says, "Repay no one evil for evil, but give thought to do what is honorable in the sight of all. If possible, so far as it depends on you, live peaceably with all. Beloved, never avenge yourselves, but leave it to the wrath of God, for it is written, 'Vengeance is mine, I will repay, says the Lord.'" (Romans 12:17-19, ESV).
Instructions For Leaders
God calls leaders to discipline, not punish. Discipline sets free, punishment imprisons. Discipline or discipleship teaches your child to trust and love Jesus. Punishment will "provoke your child to anger," and turn them away from you, God, and anyone else "to blame" for their punishment.
John tells us, "In this, love has been made perfect among us, that we may have boldness in the day of judgment, because as he is, even so we are in this world. There is no fear in love; but perfect love casts out fear, because fear has punishment. He who fears is not made perfect in love." (I John 4:17-18, ESV).
Not sure whether you are practicing discipline or punishment? The best test is to examine the results. Is there anger, fighting, and tears? Or do you notice more joy, peace, growth and connection? Is there hiding, fear, and shame? Or is there conversation, love, and conviction?
Finding this helpful? Pin it!
The Best Way To Discipline Your Child
If you want to nurture your child in the discipline and instruction of the Lord, be an example! Be disciplined. Demonstrate self-control. And correct them with gentleness.
Be An Example
As a leader and steward of your child you are called to be to be disciplined. "For an overseer, as God's steward, must be above reproach. He must not be arrogant or quick-tempered or a drunkard or violent or greedy for gain, but hospitable, a lover of good, self-controlled, upright, holy, and disciplined" (Titus 1:7-8).
Correct With Gentleness
Correction is often paired with gentleness in scripture. Mercy, not harshness, leads to repentance.
"If anyone is caught in any transgression, you who are spiritual should restore him in a spirit of gentleness" (Galatians 6:1).
Preach The Gospel At All Times
Deuteronomy 6:6-7 tells parents to incorporate God's teaching into daily living. "These words, which I command you today, shall be on your heart; and you shall teach them diligently to your children, and shall talk of them when you sit in your house, and when you walk by the way, and when you lie down, and when you rise up."
As you work to live into Christ's ways, you prepare yourself to be a better guide for your children to do the same. More is caught than is taught, but it works best to also teach with words and encouraging scriptures.
A Warning
As you focus on discipline, watch out for legalism. If practicing a discipline is leading you to pride or tempting you to trust that it somehow makes you more acceptable to God, you have gone astray. And chances are you will draw your child into legalism as well.
Yes, living like Christ glorifies God, but make sure the glory stays with God and not you If your heart is right as you practice and teach spiritual disciplines, it should draw you closer to one another and to Christ.
The Ultimate Discipline
The absolute best end goal is to be disciplined in union with the Spirit. As Galatians 5:16 puts it "Walk by the Spirit, and you will not gratify the desires of the flesh." Only dependence on the Holy Spirit can empower you and your children to live upright and holy lives, more disciplined than you could ever be on your own efforts.

But that doesn't mean you sit back and don't try at all. There is a coming together of Holy Spirit power & personal choice. As Colossians 3:12 says, "Put on then, as God's chosen ones, holy and beloved, compassionate hearts, kindness, humility, meekness, and patience."

So strive to live a disciplined life, following in the steps of Jesus. But if you are struggling, don't try harder. Instead lean harder on the Holy Spirit. Pray and ask for strength and endurance, then surrender your way into discipline.
Find this helpful? You may also like:

7 Godly Parenting Principles
How To Teach Your Kids Biblical Integrity

The True Meaning of Repentance
Biblical Parenting
Understanding Scripture