Are you concerned about raising an entitled child? Then it's important that you put effort into teaching your child to be humble. Teaching your kids the definition of humility in the Bible is challenging, but it's worth it.

As St. Augustine said, "Humility is the foundation of all the other virtues hence, in the soul in which this virtue does not exist, there cannot be any other virtue except in mere appearance."
Is it humble for me to give you advice on humility? Probably not. Nevertheless, I am of the opinion that true humility is one of the most important lessons in life, so it's worth pursuing.
What Humility Means in the Bible
Humility, by the world's definition, often implies diminished self-confidence. But humility in the Bible means getting your confidence from God, who loves and values you more than you do yourself.
Biblical humility means believing what God says about you over anyone else's opinion, including your own. It requires embracing who you are in Christ over who you are in the flesh. To be biblically humble is to be so free of concern for your own ego that you unreservedly elevate those around you.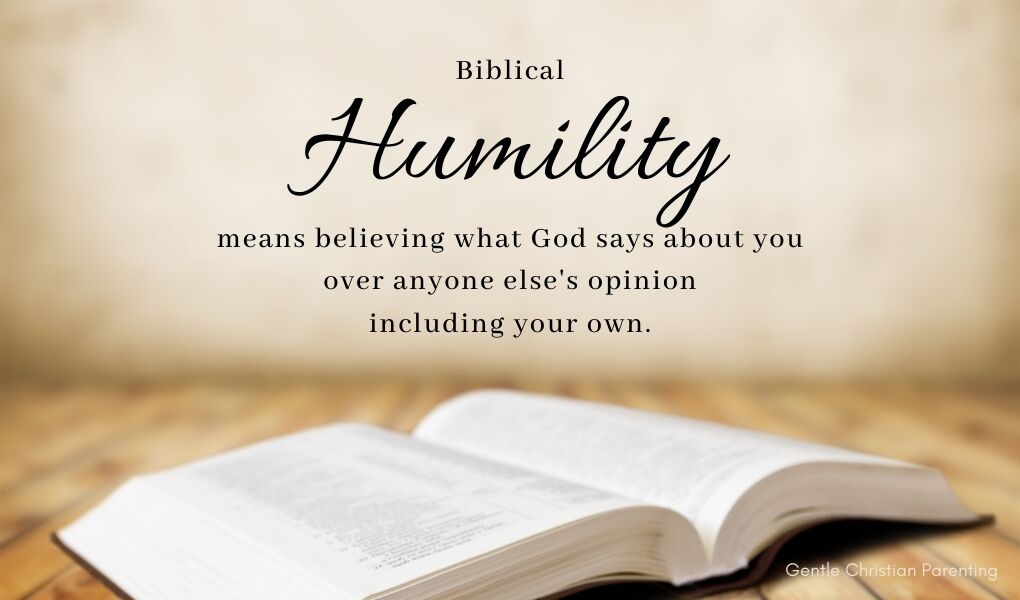 This post contains affiliate links. When you shop through the links on this page, my favorite charity, Finally Family Homes, may earn a small commission to support foster youth in need at no extra cost to you. Read our full affiliate disclosure here.
How To Explain Humility in the Bible to A Child
The above definition might be too difficult for a young child to understand. So here are a few different ways to explain biblical humility to a young child.
Humility means being willing to learn.
To be humble is to be curious about others.
Humble people listen because they know they don't know everything.
To be humble is to alwasy remember that God is bigger, smarter, and more powerful.
Humility is believing what God says is more true than what you think.
To be humble is to trust that what God says about you is right.
Why Humility Is Important
With this definition of humility, it becomes easier to see the benefits that humility has. Gone are the pitfalls of thinking too high or too low of yourself. You are free to be and to think about yourself less.
When your confidence is in Christ alone, you are free to focus on others, to treat them with elevated regard by honoring and serving them. You can "consider others as more important than yourselves" (Philippians 2:3, HCSB).

In addition, humility is the virtue that begets all other good virtues. Being humble means being teachable. If you are humble you are ready to learn how to be patient, kind, and most importantly, you are willing to be transformed by God.
10 Tips For Teaching Kids Biblical Humility
You may wonder if you can teach someone humility, especially a child. Yes, you can, but it's not easy.
The most impactful way is to show examples of humility in your own life. As you learn it better yourself, you become better at teaching it.

For extra encouragement, you can download these bible verse coloring pages here for free for you and here for your kids! (opens in a new window)
Here are a few ideas to help you teach humility.
Be a student of your child. One definition of being humble is being teachable. If you want to model humility, you must first get it yourself. The best way to learn humility is to be a student of your child.
Be slow to speak and quick to listen (James 1:19).
Direct your attention and theirs on being curious about and attentive to God and others.
Teach them that every gift is from God and meant to be used to serve and honor others (I Peter 4:10).
Boast in your weaknesses, confess your faults, and redirect personal glory towards God.
Never humiliate your children, but help them navigate humiliation as an opportunity to challenge hidden pride and grow (Proverbs 11:2).
Steer clear of competition and comparison.
Direct their attention to the things of awe which point to the Creator.
Recognize their efforts, but give God the praise for their qualities.
Help them identify examples of humility you see in them and others.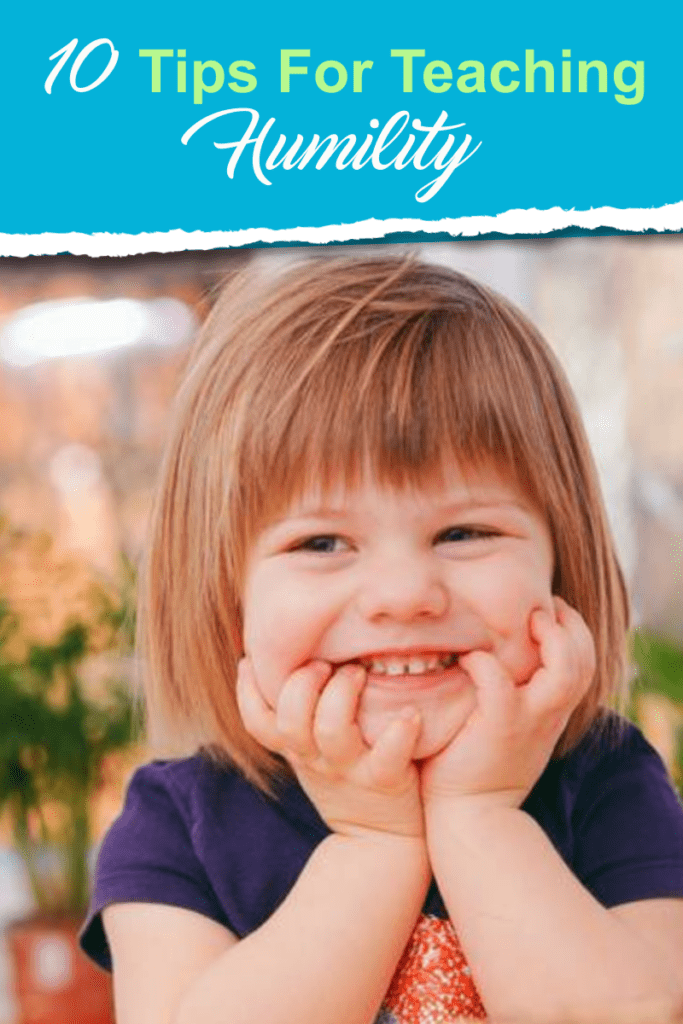 Bible Verses About Being Humble
Some of the greatest examples of humility can be found in the bible. Aside from Jesus, Paul might be one of the best examples and teachers of humility in the bible.

Why is humility so emphasized? I believe it's because humility is the first most necessary step to salvation. As he said, "unless you turn, and become as little children, you will in no way enter into the Kingdom of Heaven." And it is a necessary practice after coming to Christ, as practiced when we die to ourselves.
What Paul Said About Humilty
Paul said, "I will most gladly boast all the more about my weaknesses, so that Christ's power may reside in me. So I take pleasure in weaknesses, insults, catastrophes, persecutions, and in pressures, because of Christ. For when I am weak, then I am strong" (2 Corinthians 12:9-10, HCSB).

In Romans 12:3 Paul says, "For I say, through the grace that was given me, to every man who is among you, not to think of himself more highly than he ought to think; but to think reasonably, as God has apportioned to each person a measure of faith."

In Philippians, Paul says, "Do nothing out of rivalry or conceit, but in humility consider others as more important than yourselves" (Philippians 2:3, HCSB).

In I Corinthians 1:28-31, Paul points out that God chooses the weak and the lowly, to put to shame the things that are strong. And by elevating the weak and lowly in our own eyes, God shows us that our judgment is not right judgment.
"God has chosen what is insignificant and despised in the world—what is viewed as nothing—to bring to nothing what is viewed as something, so that no one can boast in His presence. But it is from Him that you are in Christ Jesus, who became God-given wisdom for us—our righteousness, sanctification, and redemption, in order that, as it is written: The one who boasts must boast in the Lord."
This serves as a reminder that God is the all-powerful, eternal, omniscient Creator. We, who could not save ourselves, but were save by grace, who are we to elevate our judgment? Instead, if we are humble, we choose to esteem ourselves and others as God does.
Jesus and Humility
How does God teach us humility? The same way we ought to teach our children, by example!

Jesus is the ultimate example of humility. As Paul taught us, "Have this in your mind, which was also in Christ Jesus, who, existing in the form of God, didn't consider equality with God a thing to be grasped, but emptied himself, taking the form of a servant, being made in the likeness of men. And being found in human form, he humbled himself, becoming obedient to death, yes, the death of the cross" (Philippians 2:5-8).

If you want to strive to be as humble as Jesus, then you need to surrender to God and what He says about you – over your own or anyone else's opinions about yourself.
Jesus and the Humility of Children
Christ had special esteem for the weak and lowly. Jesus welcomed children saying, "Allow the little children, and don't forbid them to come to me; for the Kingdom of Heaven belongs to ones like these" (Matthew 19:14).
He drew attention to the humility of children. "In that hour the disciples came to Jesus, saying, 'Who then is greatest in the Kingdom of Heaven?'
Jesus called a little child to himself, and set him in the middle of them, and said, 'Most certainly I tell you, unless you turn, and become as little children, you will in no way enter into the Kingdom of Heaven. Whoever therefore humbles himself as this little child, the same is the greatest in the Kingdom of Heaven'" (Matthew 18:1-4).

Jesus specifically taught us not to devalue or judge children, saying, "See that you don't despise one of these little ones, for I tell you that in heaven their angels always see the face of my Father who is in heaven" (Matthew 18:10).
God calls us to esteem children as Christ did, to value them as a good gift from God. "Behold, children are a heritage of Yahweh. The fruit of the womb is his reward" (Psalm 127:3). If we are humble towards children, they will learn humility by our example.
Humility Quotes That Inspire
Even after all of the above, you may still feel that true biblically humility is difficult to grasp, much less teach. Or maybe you feel like you get it, but struggle to do it. Well, here's some inspiring quotes to both focus and motivate you.

Some of these are from Christian leaders, but not all. However, many of these are fun quotes to share with the kids.
"If anyone tells you that a certain person speaks ill of you, do not make excuses about what is said of you but answer, "He was ignorant of my other faults, else he would not have mentioned these alone."
― Epictetus
"True humility is not thinking less of yourself; it is thinking of yourself less."
― Rick Warren, The Purpose Driven Life: What on Earth Am I Here for? (Fun Fact: this quote is most often wrongly attributed to C.S. Lewis)
"On the highest throne in the world, we still sit only on our own bottom."
― Michel de Montaigne, The Complete Essays
(A good one for the kids)
"I have been driven many times upon my knees by the overwhelming conviction that I had nowhere else to go. My own wisdom and that of all about me seemed insufficient for that day."
― Abraham Lincoln
"Be careful not to mistake insecurity and inadequacy for humility! Humility has nothing to do with the insecure and inadequate! Just like arrogance has nothing to do with greatness!"
― C. JoyBell C.
"Every person that you meet knows something you don't; learn from them."
― H. Jackson Brown Jr.
Some Final Thoughts on Humility in the Bible
My favorite quote about humility speaks to its importance to Christian living. It was at the beginning of this article. It's so good, I'll share it again.
"Humility is the foundation of all the other virtues hence, in the soul in which this virtue does not exist there cannot be any other virtue except in mere appearance." – St Augustine
To me, humility is so vital to Christian living – even to becoming a Christian that I made it one of the first lessons in my first two Parenting in Christ bible study guides. In fact, this post includes excerpts from Parenting in Christ: Treasures For Parenting From Jesus. If you want to dig deeper into Christian humility, I highly recommend checking them out & reading through the lessons.

And as one final reminder, the very best way to teach humility to your children is by example. They will be tremendously blessed if you live into the humility of Christ in front of them.
Want more biblical encouragement for parenting? Join the FREE online parenting summit!

If you enjoyed this, you might also enjoy:

Your Identity in Christ
Christian Character
Humility
Mind of Christ
Teaching Kids
Understanding Scripture