How you identify means not only how you define yourself but also how you want the world to see you. If you call yourself a Christian, you are identifying yourself as one who follows Christ. But when talking about claiming your identity in the way that bible verses on identity in Christ describe it, it means a great deal more than just holding on to labels and reputations.
Being called a Christian may be how you want to be known, but do you let this identity take charge of how you engage with the world? Does it direct the way you think and how you view yourself? If you want to dig deeper, keep on reading as we dig into what the bible says about your identity in Christ.

Your calling as a Christian is to glorify God and be Christ-like in everything. And it starts with finding your identity in Christ, from choosing to believe that's who you are even when you don't feel like it. We'll explore the scriptures below to encourage you to grow in knowledge and faith to cling to the identity in Christ God has given you. You can also download a printable at the end to take with you as a reminder of who you are in Christ.
What Does Identity in Christ Mean?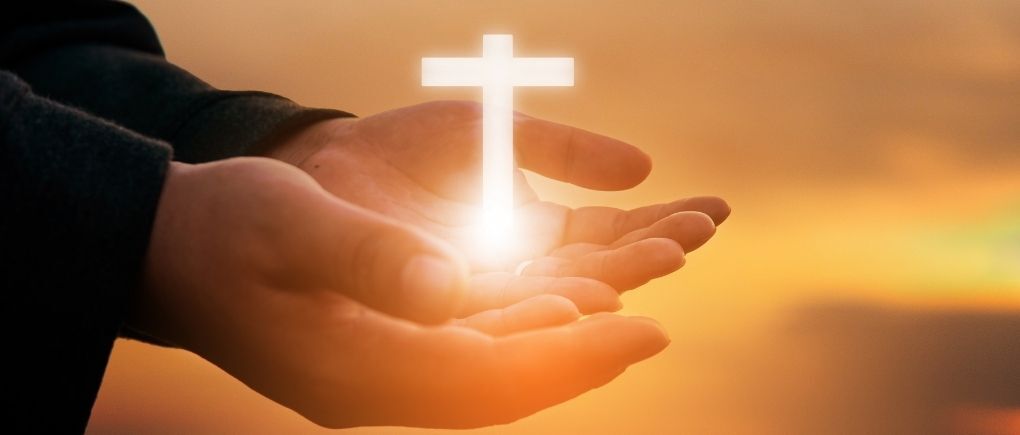 This post contains affiliate links. When you shop through the links on this page, my favorite charity, Finally Family Homes, may earn a small commission to support foster youth in need at no extra cost to you. Read our full affiliate disclosure here.
Identity is how we differentiate from and associate with others. And that identity deeply impacts our lives. As Tim Keller put it in The Reason for God, "Our need for worth is so powerful that whatever we base our identity and value on we essentially 'deify.' We will look to it with all the passion and intensity of worship and devotion, even if we think ourselves as highly irreligious."
When you become a Christian, you are to shed all other identities and clothe yourself in Christ. Paul makes this clear in this bible verse written in his letter to the Galatians.
"So, in Christ Jesus, you are all children of God through faith, for all of you who were baptized into Christ have clothed yourselves with Christ. There is neither Jew nor Gentile, neither slave nor free, nor is there male and female, for you are all one in Christ Jesus" (Galatians 3:26-28, NIV).
That's what baptism and dying to your old self are about. Letting go of what you were and claiming who you are now in Christ. And that shows up in how you live and who you love most.
"I have been crucified with Christ. It is no longer I who live, but Christ who lives in me. And the life I now live in the flesh I live by faith in the Son of God, who loved me and gave himself for me" (Galatians 2:20, ESV).
As Jesus himself told us "If anyone would come after me, let him deny himself and take up his cross daily and follow me" (Luke 9:23, ESV).
So when your identity is in Christ, you live by faith in him and love Jesus over any desires from your flesh that aren't in alignment with who Christ is.
Finding Your Identity In Christ
Finding your identity in Christ starts with letting go of old identities. As the scripture above pointed out, we must first die to our old selves, selfish ambitions, and values of the world. Having died to the old self is not our identity. But, it does give us a clean slate to grasp hold of our new identity as alive in Christ.
"If Christ is in you, then even though your body is subject to death because of sin, the Spirit gives life because of righteousness. And if the Spirit of him who raised Jesus from the dead is living in you, he who raised Christ from the dead will also give life to your mortal bodies because of his Spirit who lives in you. (Romans 8:10-11, ESV).
If you have chosen to accept Christ, then he is in you. That's the truth. What is up for you to decide next is to allow the Holy Spirit to mold and reshape you to live as Jesus did. And it is up to you to choose daily to live by Christ and get your core identity from him.
"Be imitators of God, as beloved children. And walk in love, as Christ loved us and gave himself up for us, a fragrant offering and sacrifice to God" (Ephesians 5:1-2, ESV).
Living into your identity in Christ is more than just being imitators of Jesus, it's letting Jesus live in and through you. This is the message Jesus describes to us as the relationship between the vine and branches. He is the vine and we are the branches coming off the vine.
"Remain in me, as I also remain in you. No branch can bear fruit by itself; it must remain in the vine. Neither can you bear fruit unless you remain in me.
I am the vine; you are the branches. If you remain in me and I in you, you will bear much fruit; apart from me you can do nothing"(John 15:4-5, NIV).
When you have new life in Christ when you remain in him and he in you, your life will show it. You will have "fruit" or evidence of the Spirit of Christ alive in you. You will exhibit love, joy, peace, patience, kindness, self-control, gentleness, and all the good and beneficial qualities of Christ. This fruit is not produced from you but by Christ in you.
What it Means to Find Your Identity in Christ in How You Live
So now we know what we are called to and what it looks like when we have our identity in Christ. How can we live our identity in Christ? It starts with pursuing Christ in your everyday life. You must conform your mind to Christ, coming to know and believe what God says is true about you.

As the saying goes, "What you believe is what you become."
"If then you have been raised with Christ, seek the things that are above, where Christ is, seated at the right hand of God. Set your minds on things that are above, not on things that are on earth" (Colossians 3:1-2, ESV).
What do you do about those thoughts about yourself that aren't what God says is true? How do you put them to death? First, reject them as your identity. Then replace the lies with truth from scripture.
To do that takes humility. It means believing that God knows better than you do and choosing by faith to believe what He says even if you don't see or think it yourself.
Finding Your Identity in Christ Starts with Being Humble
The very first step of accepting and living into your identity in Christ is letting go of the importance of your own opinion. Who's smarter, who created you, who knows you better than anyone else? God does.
"For you created my inmost being; you knit me together in my mother's womb" (Psalm 139:13).
Biblical humility means choosing to believe who God says you are over any other opinions including your own. What does that look like?
It starts with changing the way you talk to yourself. We all take on identities from the world that we don't own. We repeat things to ourselves our parents, friends, or even enemies said about us.
In a moment of pride, you may think or feel you are more holy, wise, or better than others. Maybe, like the Galatians Paul addresses above, you believe your culture, your gender, or your social status makes you superior to others.
On the other hand, you may say things in a moment of feeling defeated such as, "I'm such a loser… I always… I never…" Or maybe you identify yourself by your perceived limitations. Sometimes Christians even claim things that are not their identity in Christ such as "I'm a sinner… I'm dirty…God is angry at me."
If you have died to yourself and clothed yourself in Christ, none of the above is true. That is not who God says you are and that kind of thinking needs to stay in the grave. God calls you to change your thinking.
"Have this mind among yourselves, which is yours in Christ Jesus, who, though he was in the form of God, did not count equality with God a thing to be grasped, but emptied himself, by taking the form of a servant" (Philippians 2:5-7, ESV).
Christ-like humility starts with being secure in who God says you are, but takes it a step further and calls you to in full confidence treat others with higher regard. Being confident in Christ means you don't need to strut or "prove you are better" than anyone else. When you get your identity in Christ, you can act like a servant without feeling "less than."
On the contrary, serving is what the greatest ones do, as Jesus told the disciples, "The greatest among you will be your servant" (Matthew 23:11, NIV).
Finding Your Identity In Christ Means Rejecting Condemnation
You can rightfully reject any accusing or condemning words. Those labels don't stick.
"Therefore, there is now no condemnation for those who are in Christ Jesus, because through Christ Jesus the law of the Spirit who gives life has set youfree from the law of sin and death" (Romans 8:1-2, ESV).
There's no reason to go around calling yourself a sinner. That's not your identity in Christ. You can call yourself now a servant of righteousness.
"But thanks be to God that, though you used to be slaves to sin, you have come to obey from your heart the pattern of teaching that has now claimed your allegiance. You have been set free from sin and have become slaves to righteousness" (Romans 6:17-18).
You are a Child of God
Through Christ, you have been adopted into a new family. Family is part of how we identify ourselves and God's family is a safe and loving family where we can call God "Daddy, Father." We do not need to fear God's presence or keep our distance. In Christ, you are a deeply loved child.
"God has sent the Spirit of his Son into our hearts, crying, 'Abba! Father!' So you are no longer a slave, but a son, and if a son, then an heir through God." (Galatians 4:6-7, ESV).
You are Wonderfully and Intentionally Created
Do you feel different, like an outsider? We all wish to belong but still be unique. And in Christ, you are both. You are a child of God, a part of the family – but you are also uniquely made. So yes, you are different – gloriously and intentionally crafted by the ultimate Creator. But you are also included and welcomed in your uniqueness.
You are a uniquely crafted, awesome creation of God.
"I praise you because I am fearfully and wonderfully made;
your works are wonderful,
I know that full well." – Psalm 139:14, NIV
You have an Important Purpose in Christ
In Christ, you aren't just saved and then left as an object to be admired. You were saved and recreated – given new life in Christ to serve God's kingdom. You have a calling and purpose in Christ.
"For we are his workmanship, created in Christ Jesus for good works, which God prepared beforehand, that we should walk in them" (Ephesians 2:10, ESV).
What it Means to Parent in Christ
Our identity in Christ is so important in all we do, especially in parenting. That's why I chose to title my parenting Bible study discussion guides, "Parenting in Christ"
The ultimate goal of every Christian is to help others, especially their children to see the beauty of life with Christ and to choose to walk with him and glorify God.
By letting Christ live through us in the way we engage with our children, we glorify God and show them who He is.
There are false teachings out there that would have you believe you can save your child through Old Testament law. As Paul said of this, "Let me ask you only this: Did you receive the Spirit by works of the law or by hearing with faith?" (Galatians 3:2, ESV).
The law has a purpose but is not salvation. It is not enough. It only points to our need for salvation. Your children need to know Christ and believe that they receive his righteousness by grace, not by right living.
"For through the law I died to the law, so that I might live to God. I have been crucified with Christ. It is no longer I who live, but Christ who lives in me. And the life I now live in the flesh I live by faith in the Son of God, who loved me and gave himself for me. I do not nullify the grace of God, for if righteousness were through the law, then Christ died for no purpose." (Galatians 2:19-21, ESV).
My Identity in Christ Printable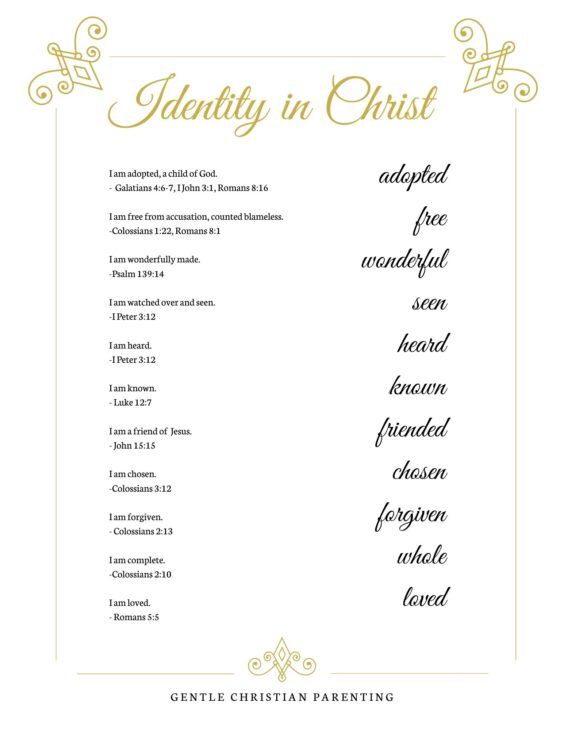 Want to take these truths with you and remember them? I made an Identity in Christ printable for you. Download and print it to remind you of who you are in Christ and renew your mind daily in the truth.

On the left-hand side are key truths about who you are in Christ with referring Bible verses to support them.

On the right-hand side are single words that can help to meditate on and pray over yourself and your family.
Just click on the image to open the Identity in Christ Printable in jpg form. Prefer a pdf? Download the Identity in Christ pdf.
Want to learn more about Parenting from Your Identity in Christ?
Check out my Parenting in Christ studies
Fruit of the Spirit
Humility
Mind of Christ