As Christian parents, it's part of our biblical calling to teach our children the Bible. But jumping right in can be challenging, unless we have an age-appropriate translation. So what is the best children's Bible?

We'll explore some options below as well as other resources to help grow your children's knowledge of the Bible.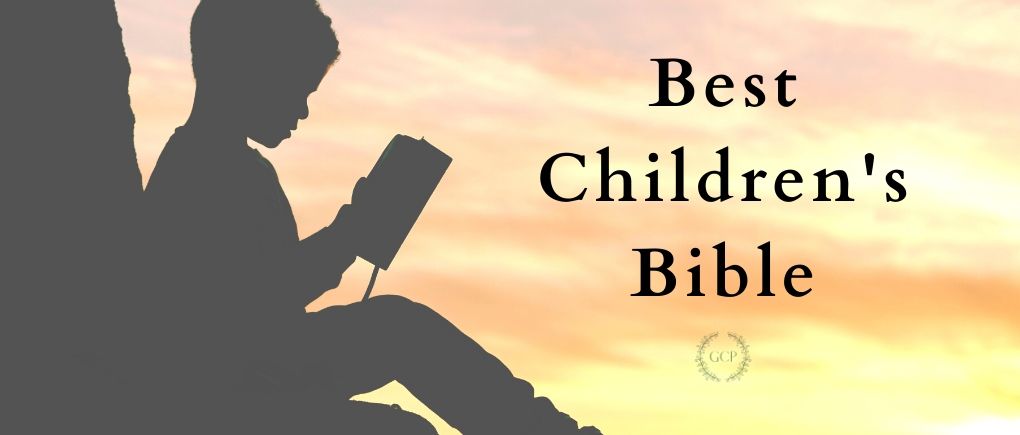 This post may contain affiliate links. You can read my full affiliate disclosure here
A Precautionary Tale
I'm part of a weekly church moms group. A mom recently shared that her six year old had asked, "How do you gouge someone's eyes out?" When the mom asked where she had heard of such a thing, it was discovered that she had read about it in the story of Sampson and Delilah.
After this, we discussed how to teach and share the Bible with children in age appropriate ways. A lot of wisdom was in that room so I thought I'd share some of the thoughts and resources I learned about there, plus a few more. The good news is there are options that are more age appropriate for children than what this 6 year old read!
Personally I am a fan of teaching about Jesus first, which is why I wrote the Parenting In Christ books. Seeing and getting to know Christ in you will have profound effects on how they come to see and accept (or reject) the scriptures and lessons they learn, even into adulthood.
As Christian parents, it's our calling to teach our children the Bible. Here's some of my top recommendations for children's Bibles.#childrensBible #Christian
Click To Tweet
Best Bibles for Toddlers
I'm a big fan of smaller board books for the littlest ones. Paper pages are quickly destroyed by kids under 4. We like our fuzzy covered tiny bear Bible. For the holidays I like taking some extra time to review the Christmas and Easter stories.
Looking for a deal? I've also come across several of the books above for less than $5 at Ross.
Best Bible for Preschoolers
There are some great options for preschoolers. I feel like this is where children's Bibles really start to shine. The best in my opinion (and many others) is the Jesus Story Book Bible!
The Jesus Storybook Bible is narrative, full of pictures, and ideal for preschool to elementary aged kids. Every story points back to Jesus.
If you choose to, you can read one story a day over advent starting December 1st. And this will lead you up to the Christmas story on December 25th.
God Made All Of Me is a smart book celebrating God as creator and our bodies as His special creation. It does a great job explaining body boundaries.

Beware that there is heavier content within the book directed and appropriate only to parents. I recommend not leaving it unattended for the more advanced readers to explore on their own.
For more ideas on little kid Bibles, Kingdom Bloggers has a great list of 10 bibles for babies and toddlers.

Finding this helpful? Pin it!
Best Bibles for Elementary Aged Kids
For early readers the International Children's Bible and Easy to Read translations of the Bible will be the easiest for your children to digest.
What is the International Children's Bible Translation?
The International Children's Bible Translation (ICB) is the first Bible translation made specifically for children. It's written at a 3rd grade reading level. The Easy to Read version (ERV), which I prefer, is written at a 4th grade reading level.
The ERV is what I chose for my Bible study discussion guide: Growing In Christ: Lessons from the Parables for Kids.
Scripture Lessons for Older Kids
If you'd like a good book to help disciple your preteen or teen, check out my Bible study discussion guide, Growing in Christ: Lessons from the Parables for Kids!

It's geared for kids about 8 years old and older. The short lessons make it great for a family devotional time.
Best Children's Bible Apps
Children love screens. Sometimes it's more appealing to them to connect with the Bible via an app.
My two favorite apps are FREE! They have interactive Bible stories kids can engage with and learn.
Bible for Kids by Life Church
and
Superbook Kids Bible by the Christian Broadcasting Network
Using Music to Learn Scripture
Music can be a powerful tool not only to express praise and gratitude towards God, but also to learn Scripture. Putting the Bible to music can help with memorization.
Songs On Spotify
For music that directly sings or teaches Scripture memorization check out:
Seeds Family Worship and Wee Sing Bible Songs.
Songs for Saplings by Dana Dirksen teaches biblical truths through song.
Music On Amazon
Christian Music Videos for Kids
Music Videos are a fun way to listen, watch, and dance along with Christian songs.

Here's Go Fish's YouTube Channel.
And here's some of my favorites from VBSs my kids have attended over the years. They are on repeat in my minivan.

Maker Fun Factory 2017

Cave Quest 2016
Lifetree Kids youtube channel is full of great stuff.

My Hope Is In The Lord is my personal favorite of all of these. It's my go to even when kids aren't in the car. Give it a listen!
Some Final Thoughts on the Best Children's Bible
As we teach our children the Bible, it's important we discuss it with them and ask questions. No matter which version or story Bible you read, discussing the Word will help them process and personalize it.

Getting the best children's Bible doesn't guarantee your child will come to a full understanding of faith. Faith is meant to be built in loving community, with discipleship and prayer. It requires effort and intention on our part as parents.
If you enjoyed this post, you'll also like:

7 Godly Parenting Principles

How to Teach Kids of Biblical Integrity

The True Meaning of Repentance