The world seems to have stopped, but Easter is still coming! Easter 2020 is Sunday April 12th. For most of us in the United States this year, it means we will be have to celebrate Easter at home.

In my opinion, Easter is usually under-celebrated. Let's not let circumstances allow that this year! I've got some celebrating at home ideas and new ideas for traditions to help you create a special Easter.
What can you do for Easter at home?
This post may contain affiliate links. You can read my full affiliate disclosure here.
In our family, a typical Easter would start with getting ready, driving to church and then gathering with friends. We would usually do an Easter brunch and an egg hunt. Not only this we'd go out to other egg hunts around town leading up to Easter.
Easter day we would invite our neighbors and friends from near and far. If family was in proximity, they of course were invited, too. So doing Easter at home isn't all that different for us. What's different this year is we won't be inviting others over.
Do you need some ideas for how to make a magical and meaningful Easter at home? Check out these Jesus centered Easter crafts, decorations, and all you need to plan a special Easter. #Easter #HappyEaster
Click To Tweet
Before Easter
With so much going on in the world, I'm a fan of the idea of building up anticipation. Let's direct our families towards the hope that is ahead. That's what Easter is about!

Try this free printable Easter Advent Calendar from HappyMoneySaver. You can print them and put them into numbered plastic eggs or make a legit calendar out of them with activities to do leading up to Easter.
Celebrate Passover
The Passover meal is a Jewish holiday and the last meal that Jesus celebrated with his disciples before being crucified. We now understand that Passover celebrates our salvation through the coming sacrifice of Jesus, the lamb of God. Passover honors the time when the Jews were spared from a deadly plague in Exodus by sacrificing a lamb and spreading its blood over their door.

Talking about Passover and the meaning behind it can help bring a greater appreciation and understanding for the anticipation of Christ's coming and sacrifice. Crosswalk has some good ideas on how to celebrate Passover. Passover is April 8-16th this year, with the Seder supper usually celebrated on the first night. Read more on the connection between Easter & Passover.
Decorate
Decorate! Pull out those decorations from Easter's past or make some Easter craft decorations. Yes I realize you may be celebrating Lent. Even so, like Christmas we can decorate ahead of time to build up anticipation of the day of celebration.

If you are comfortable, pick up or order some durable decorations. I usually buy one or two new ones per year.​ I also love these classy and affordable decorating ideas.
Download your FREE Easter Bible Verse Coloring page (no sign up required)! Color it and put it up on your wall.
Finding this helpful? Pin it!
Outdoor Decorations
This year a way to connect with your larger community is to decorate outside! Even weeks away from Easter folks have been suggesting re-stringing your Christmas lights up to bring encouragement to others in this time of darkness.

I'm on board! I plan to put up a few Christmas lights & add to the Easter feel with some of the decorations. I'm also going to have the kids decorate with egg-shaped chalk with Easter greetings.
Indoor Decorations
Maybe it's all our recent rainy weather, but I'm still about about adding light. After all, we are celebrating that the Light of the world overcame the darkness!

DIY Decorations
I'm also a big fan of making your own decorations. Or.. well, I'm a big fan of the idea of making your own decorations. Here's some of my favorite ideas.
Easter Sock Bunnies
I love these cheap and easy sock bunnies! Plus -they're so cute!
Wine Cork Chicks
No, I'm not talking about the latest mom's club (which I would totally join, by the way). I'm talking about this adorable and even easier painting craft from crafty morning.
Easter Day 2020
It's likely you, too, will be doing Easter differently this year. Another word for different is special. Make Easter day 2020 extra special this year!

Have some special meals. Do some of the same activities and some new ones. Dress up! You may not go out or go far, but you can always do some family selfies! Dressing up is nearly always a part of celebrating special days and is probably even more of a rarity right now.
Easter Meals
Holidays always include an element of special food! So make Easter special with extra special foods! Here's a few ideas.
Easter Brunch
Make a special symbolic breakfast. Resurrection Sticky Buns are pretty much like monkey bread, but with the symbolism of the empty tomb.
​​
Cook up some Easter Breakfast Eggs! I recommend adding a tsp of dijon mustard to your deviled eggs then sprinkling with a dash of pepper for more flavor. Also, I prefer these more natural dyes.
Add bacon. Pork is a traditional Easter food (because through Christ we were given freedom to eat more, including pork). But also, why not always add bacon? It's bacon!

Feeling less ambitious? Try these adorable bunny & chick pancakes.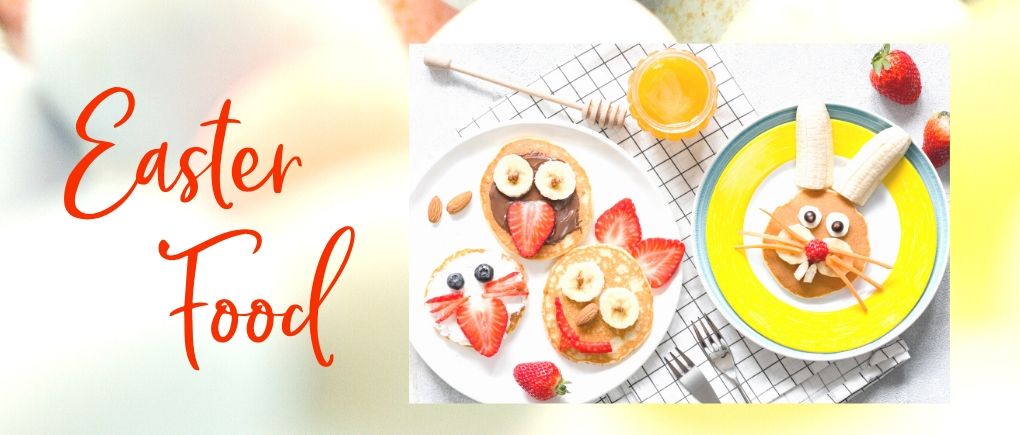 Easter Dinner
Print & set out these Easter Story Napkin Rings by Lacy at CatholicIcing.​ The Easter story is colorfully written on numbered printables that can be used as napkin rings or place settings. At dinner each person reads a part of the story.

A traditional Easter meal usually consists of ham or lamb, cheesy or scalloped potatoes, and some kind of green veggie like asparagus or green beans. I'm a fan of the recipes / meals put together at Favorite Family Recipes. For lamb, this recipe from Alton Brown is the best I've ever had.
For dessert, these awesome empty tomb treats… a good fit for the cooking/crafting challenged like me.
What are some Easter activities?
Wondering what the kids can do on Easter Sunday? Here's a few activities to help make Easter both fun and meaningful.
Hunt Eggs Differently
One thing we've done over the years that has been a huge hit is a progressive egg hunt. What I mean is that a parent hides the first round of eggs… in the yard, house, or wherever works.
Then the kids hunt. Everyone gets to open and keep or eat the contents of one egg. But then… we count the eggs and the one with the most eggs gets to hide them next. They love hiding the eggs & will keep going for hours!

Since we only have 2 big kid hiders this year, we can only do this if the adults participate. So I guess I'm in!
Check out these fun Easter activities to do at home! Change up the egg hunt, build a resurrection garden, special meals & recipes here! #Egghunt #Easter #HeIsRisen
Click To Tweet
Create a Resurrection Garden
If you haven't seen these lovelies before, here's a step by step blog post on how to create your own resurrection garden. I did it a few years ago.. it didn't last long and it could win as a Pinterest fail, but it's a fun activity – regardless of the result. 🙂 But here's how Walking on Sunshine's turned out.
Color Some Bible Verses
Check out my Bible verse coloring pages. I've got even more for my email list subscribers. I'm putting up a special coloring pages just for Easter! You can download one of them right here!
Play Easter Music
Praise or Christian music of any kind will do, I think. I recently discovered this playlist from Amazon Prime music, which is full of uplifting contemporary / pop Christian songs.
If you prefer classical, this album also streams free on Prime or can be ordered. It offers gorgeous choir and organ music for the days and events surrounding Easter, like good Friday, the crucifixion, arrest, Easter day, etc.

Otherwise, for the kids, the Veggie Tales Easter album seems to be most popular.
Watch Easter Movies
While making breakfast or after recovering from a bigger meal, it's nice to sit down and watch a movie together. Here are a few of my favorites.

It's completely secular, but a lot of fun is the very fictional, Hop. Also free on Netflix right now.

The Prince of Egypt is a good animated movie to share the story of Passover. For Veggie Tales fans, there is a combo pack, 'Twas the Night Before Easter / An Easter Carol."
Read the Easter Story
Easter Story Bible Verses
Of course the Bible is the best source of the Easter story. The Scriptures covering Easter can be found are: Matthew 27-28, Mark 14-16, Luke 23-24, John 19-20.

Consider which Bible translation is best for your kids and which parts of the story to get into. If you'd like to have more of a digestible, big picture view of the story, I'd recommend the following books.
Easter Story Books
This first board book, The Story of Easter, is one we've had for years. It's great for the little ones to introduce the Easter story on the simplest level. The action Bible is highly recommended for kids 9 and up. It's half off on Amazon right now, so I've just ordered a copy for the big kids.
Want more book options? Check out Aryn the Librarian's Top 10 Easter books. If you want more ideas for activities, I recommend Hope & Joy's 16 Activities to Teach the True Meaning of Easter.
Some Final Thoughts on Celebrating Easter at Home
The truth is that all of Scripture points to our salvation through Christ. The whole Bible is a part of the Easter story!

We adults need to make sure we get fed too. Be sure to join your local church's online service. If you don't have one, check out this Easter Sermon from Tim Keller in 2016.
All of Scripture points to our salvation through Christ. The whole Bible is a part of the Easter story! #Easter #Easter2020
Click To Tweet
Don't forget to reach out to your loved ones.. and even the people you don't strongly dislike. 😉 Send a text, call, or video chat. Talk to a neighbor outside.

I pray that your Easter at Home is light, bright, and hopeful. I pray it's full of celebration and love. He is risen!
Did you find this helpful? You may also like:
How to Bring Peace Into Your Home